Music Production Programme (180 ects credits)
In the unique study environment at Ingesund School of Music in Arvika, you have the opportunity to develop into a competitive music producer and songwriter. We offer a rich artistic environment characterised by quality, creativity, and music making!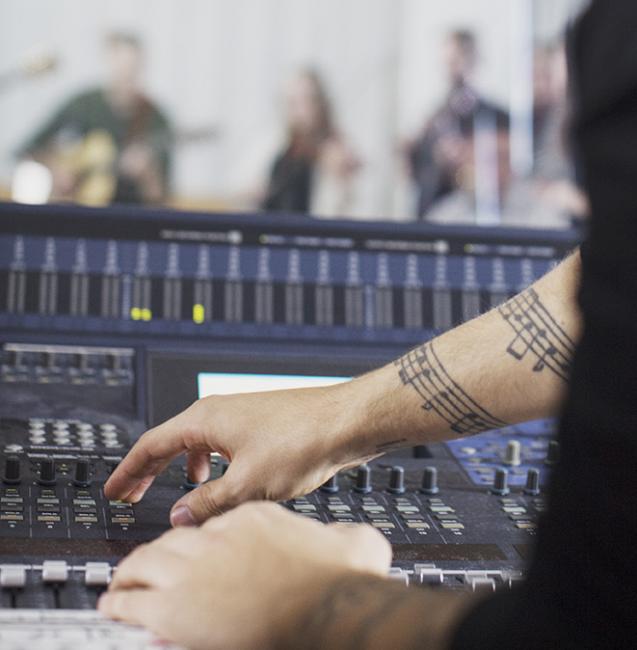 The music production programme is designed for students who want to acquire a solid foundation for working as music producers and songwriters in the music industry and specifically in the commercial market.
Ingesund School of Music's new, well-equipped studio complex is open to programme students around the clock and here you can complete all kinds of projects, from simpler music productions to complex recordings with the larger Ingesund orchestras.
The programme is clearly connected to the current music industry. You learn how to write music and create music productions together with other passionate students, and complete different types of projects, from artistic creations to launching a product. During your studies you will meet teachers and guest lecturers who work professionally in the music industry. Since Ingesund School of Music offers so many programmes and specialisations, there are many opportunities for collaborations with individual musicians or different ensembles.
Your artistic expression through songwriting and music production is central in the programme. The programme also has a clear focus on entrepreneurship and the music business, to prepare you in the best possible way for a future career in the music industry.
ARTISTIC SPECIALISATION
The programme is designed to meet the three local aims for all Karlstad University's music programmes, by developing:
Excellent technical and artistic musical skills
Cooperation within and between different cultural contexts
Creativity, innovation and entrepreneurship
SCOPE AND CONTENTS OF THE PROGRAMME
The programme consists of two parts. The artistic part (82.5 ECTS credits) comprises courses in music production and songwriting, including a diploma project of 15 ECTS credits, while the other part comprises courses in entrepreneurship and the music industry (37.5 ECTS credits). Each semester you complete courses from both parts, thus ensuring progression and continuity in your development in and between these areas.
In the artistic courses, you develop your knowledge of and skills in music production and songwriting, mainly in popular music styles. We focus on the creative process from an artistic idea to a final music production. Courses include basic music theory and ear training, methods for writing lyrics and melodies, arrangement techniques, sound and recording technology, editing and mixing using software, music production, as well as different project-based components.
The other courses aim to give you knowledge of and skills in entrepreneurship and the music industry so that you will be able to work independently as a music producer and songwriter in different contexts. The courses treat the music industry and its actors, financial matters relevant to music producers and songwriters, business and marketing plans, and communication with different actors in the music industry.
The programme is primarily taught through workshops, lectures, seminars, artistic production, project-based music productions and text studies. Theoretical and practical components are interspersed throughout the programme.
HIGHER EDUCATION DIPLOMA IN THE FINE, APPLIED AND PERFORMING ARTS
The Music Production Programme comprises 120 ECTS credits and upon completion of the programme you will receive a higher education diploma in music.
ENTRANCE TEST AND OTHER REQUIREMENTS
General entrance requirements for higher education must be fulfilled. In addition, a satisfactory entrance test (two parts) is required.