Carl Unander-Scharin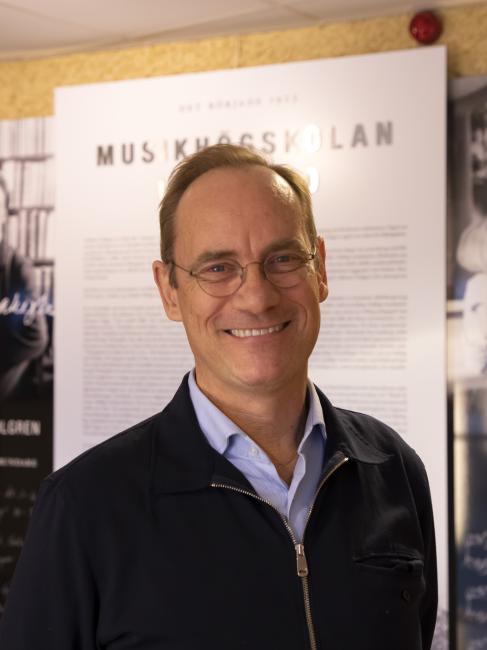 SUBJECTS
Classical vocal studies, opera ensemble and chair of the Artistic Committee at Karlstad University.
BIOGRAPHY
I work as a professor, voice teacher, researcher and head of subject of Classical Voice at Ingesund School of Music. I did my Master of Fine Arts at the Royal Acamdy of Music and the University College of Opera, both in Stockholm. I continued my studies at the University College of Opera in Stockholm in 1991–1995. I studied organ for Hans Fagius, conducting for Eric Ericson, Gustaf Sjökvist and Jorma Panula, and voice for Solwig Grippe, Hans Gertz, Nicolai Gedda, Erik Saedén and Gösta Winbergh. As a student I was a member of both the Swedish Radio Choir and Eric Ericson Chamber Choir.

In conjunction with my singing, I am also a composer—focusing primarily on compositions with vocal elements, often with an electroacoustic component. The twelve operas I have composed have all received international attention. I am also a member of the Royal Swedish Academy of Music since 2015.

For a more detailed CV, including a listing of my compositions and recordings, see www.electronic-opera.com as well as www.operamecatronica.com
VOCAL STUDIES for me
My teaching is always based on your current vocal status, your preparations and your wishes and repertoire. Based on these parameters, I design a unique lesson each time and provide exercises and etudes that encapsulate the challenges you currently face in your singing. I also help you with choosing repertoire based on long-term strategies, in order for each individual student to develop into the best and most complete singer possible. All of my students will receive a comprehensive education in breathing techniques, phrasing and a broad repertoire. Students will also develop a balanced vocal range with assured high notes, a beautiful middle register and stable low notes in line with the ideas of Bel Canto (in line with terms such as Appoggio, Sprezzatura and Chiaroscuro).
At Ingesund School of Music I lead a soloist ensemble called Ingesund Vocalis. Together with the orchestra Ingesund Camerata, we perform grand pieces such as Handel's "Messiah", cantatas by Bach and Buxtehude and entire operas such as "I Firenze" by Helena Munktell and Handel's "Acis and Galatea". We are currently working with a staged version of Purcell´s "The Fairy Queen" in collaboration with Leif Stinnerbom.
Given my career as a professional vocalist—I have a long career with 16 records, many radio performances, approximately 40 opera performances and an extensive oratorio and lieder repertoire—I provide you with the tools you need to take your vocal performance to the next level. My vocal education is based on a Swedish singing tradition where many singers, me included, start out by being a member in a choir. This way of singing has then been combined with studies in professional operatic techniques in order to create a vocal style based on high precision, good intonation, lyrical awareness and deep knowledge of the vocal expertise needed to work as a professional opera singer.
From my vocal teachers Nicolai Gedda, Erik Saedén, Hans Gertz, Gösta Winbergh and Solwig Grippe, I have learned many a "trick" that I intend to pass on to new generations of singers. Since good breathing technique is vital for achieving a good vocal technique, I spend time each lesson teaching breathing awareness—a technique that I have developed that is emerging from the Indian yoga tradition (Pranayama) and exercises developed by the British vocalist teacher Anna Sims. I also provide insights into how and why I design the exercises I give the students, as well as what the long-term goals of these vocal exercises are or may be. 
PREVIOUS WORK
I have been active as a singer at Folkoperan, The Royal Swedish Opera and Drottningsholms Slottsteater. Performances include: Don Ottavio (Mozart's "Don Giovanni"), Remendado (Bizet's "Carmen"), Han (debut with Nina Stemme as the lovers in Ingvar Lidholm's "Ett Drömspel"), Nemorino (Donizetti's "Kärleksdrycken"), Tamino (Mozart's "The Magic Flute"), Almaviva (Rossini's "The Barber of Seville"), Raoul de Gardefeu (Offenbach's "Parisian Life"), and The Fisherman (Stravinsky's "The Nighting Gale").
In 2009, I performed the role of Nadir in Bizet's "The Pearl Fishers" in the celebrated stage production at Folkoperan, and in 2014 I performed the role of Faust in Lili Boulanger's "Faust et Helène" at Malmö Opera. In the summer of 2018, I sang the specially written role of Francesco in the original production of the opera "Syskonen i Mantua", which received much attention both in Sweden and abroad.
I regularly perform in high tenor pieces such as Bach's Evangelist, Rossini's "Stabat Mater" and "Petite Messe Solenelle", Handel's "Messiah", Haydn's "The Creation", as well as a plethora of performances with a more popular repertoire. As a soloist I have performed in approximately 40 operas and on 16 records.
For a more detailed CV, including a listing of my compositions and recordings, see www.electronic-opera.com and www.operamecatronica.com