Sustainability through responsible management education
Karlstad Business School provides education and research in among other areas responsible leadership and sustainable working life and organisation. As part of an international context of knowledge, Karlstad Business School has signed The Principles for Responsible Management Education (PRME). This is a United Nations-supported initiative founded in 2007 as a platform to raise the profile of sustainability in schools around the world, and to equip today's business students with the understanding and ability to deliver change tomorrow.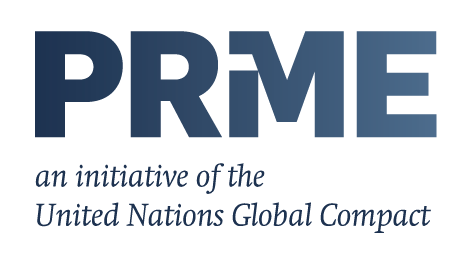 As a voluntary initiative with over 650 signatories worldwide, PRME has become the largest organised relationship between the United Nations and management-related higher education institutions.
Working through Six Principles, PRME engages business and management schools to ensure they provide future leaders with the skills needed to balance economic and sustainability goals, while drawing attention to the Sustainable Development Goals (SDGs) and aligning academic institutions with the work of the UN Global Compact.
Karlstad Business School offers courses in for instance social sustainability and business ethics at undergraduate level and postgraduate level. The courses are closely linked to the ongoing disciplinary and multidisciplinary research at the Business School.
Some examples:
Business Administration
CSR, Corporate Social Responsibility, is integrated in the service research at CTF, Service Research Centre. So far, the result is two doctoral theses, several peer reviewed articles in international journals and books in Swedish and English. In the course "Business ethics and sustainable business", business ethics and economic, social and ecological sustainability in organisations are discussed to prepare students for achieving equality, considerate and sustainable businesses.

Achieving this often involves an extensive process of adaptation for the organisation regarding business development and marketing communication. Many organisations lack basic knowledge of what is required. Students develop a broad understanding of how this can be achieved. From a holistic viewpoint, students analyse, identify and formulate an ethical problem in relation to a current event or phenomenon with relevance to the course content.

Students are encouraged to work with case studies connecting to the UN Global Goals . which integrates CSR and corporate governance to have an understanding of values-based governance, Compact, GRI (Global Report Initiativ).
 
Information Systems
The courses "Business by Web" and "Web Analytic" give the students a wider understanding of sustainability and how CRS can be communicated. In the field of research, integrity, privacy and ICT4D ICT for development are some of the areas connecting to the UN Global goals for development, often in cooperation with partner universities in Africa.
 
Law
Tax Law and Corporate Social Responsibility, CSR, are areas in rapid expansion in law at Karlstad Business School. Ethics and sustainability in business are part of the curricula, where law and jurisprudence form the basis of aspects such as contracts, consumer rights, family law and tax law.
 
Economics
Macro- and microperspectives on sustainability from an environmental perspective, eco-economy: Here future environmental changes are in focus as well as the society's ability to plan to avoid environmental crisis as well as social effects. Research is carried out in cooperation with MSB – Swedish Civil Contingencies Agency.
 
Working life science
Research regarding the areas of work related issues such as labour legislation, gender perspective, equal rights, diversity and immigration. PhD students as well as undergraduate students engage in studying these perspectives of working life.
The research at Karlstad Business School also includes several case studies regarding public transport as a driving force for transformation to sustainable cities and regions. Here we have looked into mobility and social and environmental challenges in Stockholm, Gothenburg, Freiburg, Paris, Cape Town, Zürich, Buenos Aires, London and Djakarta.
Read about student's projects in MFS, Minor Field Studies:
Articles about sustainability at Karlstad Business School 
Ikea's journey towards sustainability on Sustainability Day
Last year's Sustainability Day at the Business School centred to a great extent on the art of moving from talking to acting, turning ideas and plans into speed and action, since knowledge means nothing without the ability to use it. A case in point is Ikea, a company that tests different climate-friendly and lifecycle solutions for all products, from the book shelf Billy to the salad served in the restaurant.
Master course in sustainable business highlights gender equality
Through the exhibition "Support male entrepreneurship", Sara Högström, who teaches the master course Sustainable Business, wants to highlight gender equality issues. The exhibition, on loan from Region Värmland, is in partnership with the communications agency Bulldozer talking about assignments they have had involving a clear gender perspective.
University teaching in 2030 – how will it be done?
Karlstad Business School got off to a flying start after the summer by focusing on educational issues at the joint one-day kick-off conference in mid-August. The event was part of efforts towards obtaining AACSB accreditation, but also an opportunity to share experiences of teaching and assessing.
Research symposium on Marketing Ethics and Corporate Social Responsibility
Researchers from Europe and North America met at Karlstad University to discuss the broader perspective of Marketing ethics and CSR with a focus on the role of positive and normative marketing ethics, and the change in business ethics due to Artificial Intelligence (AI) and Blockchain Technology at "The 7th Pat Murphy International Symposium on Marketing Ethics and Corporate Social Responsibility".