IT support
As a student at Karlstad University, you have access to a range of IT services. Most can be accessed by activating your KauID student account.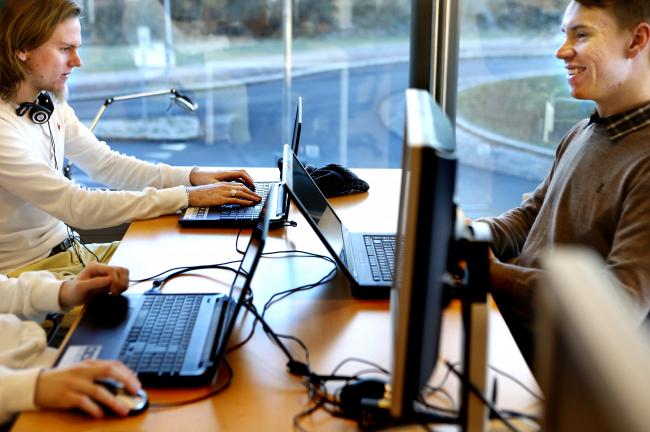 Student support
The student support team will help you with any questions concerning your KauID (student account), digital exam with Wiseflow, your student e-mail, the wireless network, the computer workstations in the library, and more. Always bring your ID-card or your 10-figure t-number (Swedish social security number or national identity number). You will find the student support service in the Welcome center, in house 1E.
Student support also gives you guidance in the most common Office questions and helps you with the settings on your laptop.
Karlstad University provides different web-based systems to support and to make teaching and learning efficient.
Software
updated virus protection software
latest versions of your browser (such as Edge, Internet Explorer, Firefox, Safari and Google Chrome). Some programs do not work in every browser so make sure you have at least two installed.
a word processor (Karlstad University provides students with Office 365 for free. You can read more about this here: https://www.kau.se/nyheter/kostnadsfri-tillgang-till-office-365-studenter).
Adobe Acrobat Reader.
What do I need as a student?
Many courses are distance learning or blended learning, i.e. a combination of syncron and asyncron learning. Access to computer is a must no matter what form of education that you've selected. A Chromebook is not a computer in that way, as you can´t install software as might be necessary for your studies.
Equipment for distance learning and blended learning
In order to be able to take advantage of education via a video link (streaming video) and/or e-meetings via the Internet requires that you have access to equipment that is capable of this. An alternative might be to use computers in such as learning centres or libraries where it is possible to sit separately. You need your own headset.
Internet access
To be able to see broadcasts and participate in e-meetings you need a fast connection to the Internet. The biggest problem with all e-meeting systems is the sound. You hear an echo, the sound may stutter or you do not hear anything at all. These problems are related to your connection speed and bandwidth. It requires that you
have the Internet access (wired networks, cable), preferably approx. 1 Mbit/s
never using mobile broadband
avoid wireless network
if you are sitting at home: make sure that other family members are not active with bandwidth-intensive tasks, such as web videos and online games.
If you experience problems with Kau's wireless network, you can help us get better by filling out our form: https://www.kau.se/form/wifiundersokning
WiFi
At Karlstads university you must connect with eduroam. If you experience problems with the wireless network at Karlstad University, you can help us get better by filling out our form: https://www.kau.se/form/wifiundersokning
OFFICE 365
Karlstad University provides Office 365 for free to all students. Read more about how to download it: https://www.kau.se/student/ar-student/it-stod/tjanster/office-365-studenter If you want an e-mail address linked to the university, you can use the e-mail in Office 365.