Interview with Sofie Skogström, student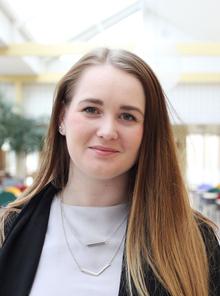 Why did you choose the Dance Pedagogy programme?
"I took the Dance 60 and Dance and Learning courses earlier, and I knew that I wanted to work with dance in some way. I was wondering which direction I should take when I heard of the new Dance Pedagogy programme. I also like studying in Karlstad and didn't want to move, so I was really glad when the Dance Pedagogy programme started here at Karlstad University. It was perfect for me!"
You are now in your second year and soon you will finish the programme. What do you think?
"I like the broad focus. The teachers make sure that we learn many different styles, but also thorough teaching methodology and pedagogy. We have to be able to teach dance and must also dance well ourselves. I like the variation – it is something that not a lot of other places can offer. The programme is only two years long, so there is a lot that has to fit in. I think the teachers have designed the programme very well by alternating dance and theory. Contrary to most other programmes, we take many courses at the same time. This means that we can measure our knowledge of dance directly against theory and teaching methodology. I also enjoy meeting all the different excellent teachers."
What are your plans and dreams for the future?
"My biggest dream is going to New York to dance for a year. That would be fantastic! I also want to work with dance and teach dance. During my studies, I have worked with dance for children and teenagers and it is wonderful to see them grow through dance. They become more confident in themselves and with the group. Dance gives new opportunities to express yourself and I think children and teenagers need that today. Movement is of course very important too; too many people sit down too much."
Would you encourage others to apply to the Dance Pedagogy programme?
"Definitely, and particularly if you want to have a broad foundation in dance. Training in different styles from street to improvisation and ballet means that you become very versatile."
Name: Sofie Skogström
Age: 24 
From: Åmål
Studying: Dance Pedagogy programme, second year