Seminar series Värdeskapande samtal
In this seminar series Värdeskapande samtal (Value creating conversations) academia and practice meet to discuss socially relevant issues and research results, to spread knowledge, share insights and contribute to more sustainable societal development.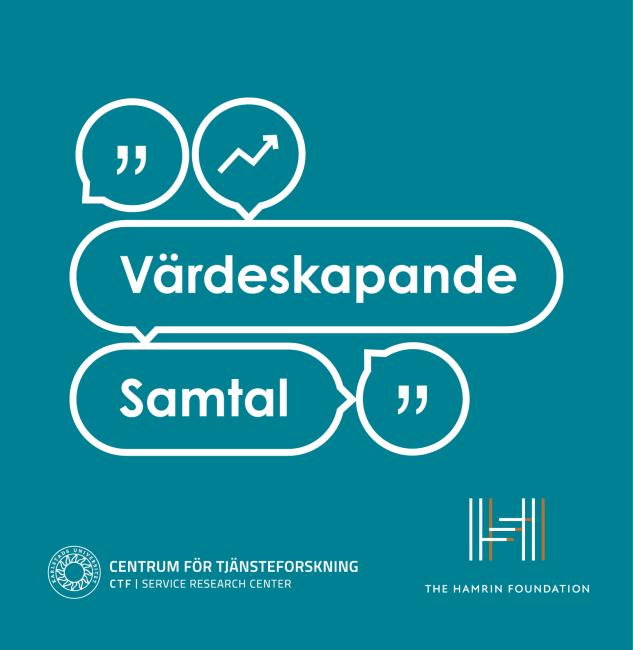 The seminar series is arranged by Service Research Center (CTF) at Karlstad University in collaboration with The Hamrin Foundation and is a platform where researchers and practitioners meet in a conversation around a current topic, and to present new knowledge and share insights that can be used to meet societal challenges of our time.
Through Value Creating Conversations, we want to present and discuss current concepts or issues, disseminate socially important research results in a wider context and encourage conversations between researchers and those who are affected by the results.
The form of seminars varies and can be held in a studio and sometimes on stage with a live audience.
Contact
Program 2023
During 2023, we will arrange four talks and they will be broadcasted, recorded and published here. The seminars are held in Swedish.
Moderator: Journalist Annika Lindqvist.
Värdeskapande samtal 1: Servitization within manufacturing industry 
Participants: Peter Santén, Volvo Group, och Maria Åkesson, CTF. 
Värdeskapande samtal 2: Innovation and digital development in retail  
Participans: Erica Wredberg, Lyko, and Peter Samulesson, CTF. 
VÄRDESKAPANDE SAMTAL 3: DIGITALISERING OCH DIGITAL KOMPETENS INOM OFFENTLIG SEKTOR
Ett samtal om digitalisering och mätning av digital mognad hos medarbetare inom vård och omsorg. Medverkande: Helle Sørensen, projekt- och utvecklingsledare vid Östersunds kommun, och Karin Brodén, lektor i informatik vid CTF och Handelshögskolan vid Karlstads universitet.