CTFblog: Do we all work with service innovation? 
2017-06-13
In media and in communication from the government innovation is brought forward to save our Swedish businesses through increased revenues and lowered cost. In addition, it will help us to create more jobs and a brighter future. Innovation has in recent years become such a buzzword, it seems like everyone is an expert in innovation and that all firms are innovative. So, what does this then mean in practice - let us see both sides of the coin.
Yes, service innovation is viewed as a process and we are all service innovators. This means that every time we work with a process, work practice, the servicescape, a service or a product - we innovate. In this spirit, we do not need any methods, processes, or knowledge and skills to innovate it is a job for everyone. If we can unleash the creativity in all employees our company will be viewed as innovative and we will come up with new services that will revolutionize the world. It seems like the solution to how to create a bright future is so easy - we just need to stay innovative to succeed?
No, service innovation is viewed as an outcome, and can only be judged when we see the result of the new service on the market. This means that there are very few service innovations, and when in class asking students they often mention innovations such as the Iphone, McDonalds or Spotify. In this view, we view innovation as something that (1) has a great influence on peoples' everyday life, i.e. changes the value creation processes of an individual; and (2) changes the everyday life for many people. If, we take a commercial perspective on innovation it means that a new service is introduced that has a large effect on the market.
In my view, we need to create a more balanced view of what service innovation really is. First, not all firms are innovative. This is a problem, since a sustainable competitive advantage is often built through new innovative services. In many cases, firms are built on a great idea, that they managed to turn into a service innovation. Then, the firm has problems to repeat their success and work over the service life-cycle, first to grow the business and second to improve the profit margin of the service.
Second, many firms lack the key to unlock potential service innovations. This means that we need to use available processes, methods and tools to develop new services. Can we succeed with service innovation without these aids - of course - but using them help us increase the odds for success, and we do like better odds! At CTF, we have Servdit where firms can get an idea about what methods exist for service innovation and what they can contribute with.
Third, service innovation can often not be performed by a single firm, we need to involve several actors in the service ecosystem. Getting acceptance for a service innovation often means that the key actors need to get onboard, and the new business model need to consider the interest of multiple actors. If your friends do not make a profit from your offering - probably you will not either, at least not in the long run. 
Fourth, we need to find the key innovator - an individual that lives and breathes innovation. This does not have to be the one that has the brilliant idea to start with, but an individual that can feed energy into the project - also in periods where a service innovation is facing bumps in the road.
In Academia, we can contribute with knowledge - we need to come up with better models of what a service innovation is, how it can be developed and what the effects might be. In our research project "Service Innovation for a Sustainable Business" we aim to identify the DNA of service innovation. This means we develop theories on service innovation, and we try to translate them into processes and methods to be used by firms in practice. CTF provides such a platform for discussing service innovation - come and join the discussion!
Let us make a difference!
Lars Witell
Professor in Business Administration at CTF
lars.witell@kau.se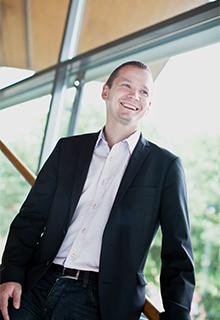 Photo: Maria Obed
Lars Witell, Professor in Business Administration at CTF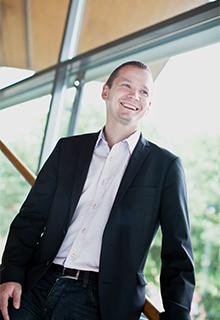 Photo: Maria Obed
Lars Witell, Professor in Business Administration at CTF