Directions
Karlstad University is situated in an area just outside the city centre. It can easily be reached by bicycle, bus, train or car.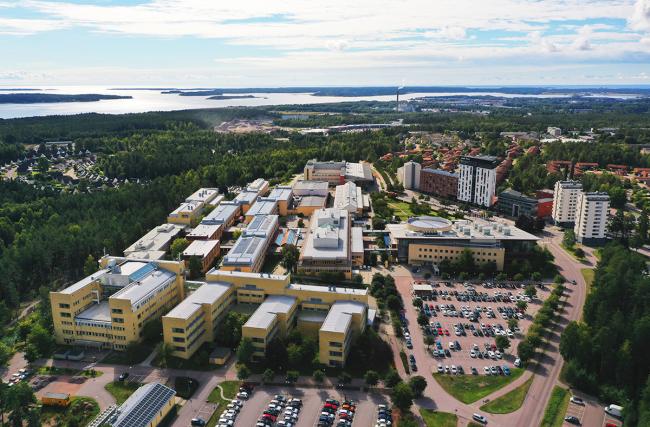 By bus
Bus no 1 is a direct bus to the university running every ten minutes to and from the city centre for the major part of the day. Also buses no 2, 3 and 52 stop at the university along with several regional and long-distance buses and coaches. The latter are used by commuters from areas outside Karlstad.
By car
If you travel to Karlstad by car on the European route E18, look for the signpost Kronoparken/Universitet.
GPS: Lat: N 59º 24' 21.11" Long: E 13º 34' 55.95"
Karlstad University has plenty of parking spaces, both to the north and south of the campus area. All parking spaces are subject to a fee and available to everyone.
Directly to the north of the Library/main entrance, there is a number of parking spaces subject to a higher fee, meant for shorter parking periods, since at times it can be difficult to find free parking spaces.
There are eight charging stations for electrical cars. Four of them are located on the main parking lot to the north of the Library/main entrance and four directly to the south of building 21. The charging stations are subject to a special fee, where electricity consumption is part of the parking fee, to promote increased rotation. The fees are set by the parking company in charge.
By bike
The university is also easily reached by bike or on foot. In Karlstad there are five main bike tracks connecting the city centre to different districts. The Red Track leads to the university at Kronoparken (distance 5.5 km)
By train
Some trains stop at the Välsviken terminal, from which bus no 53 will take you to the university in a few minutes. If you arrive at Karlstad central railway station, the best option is to take the direct bus no 1 at the city square bus terminal.