Alumnus of the month: good is something you become, not something you are.
The alumnus of the month is a teacher, who decided to build his career on two legs: music and history. He thinks that the principle of mastering one instrument is a universal tool applicable to just about anything.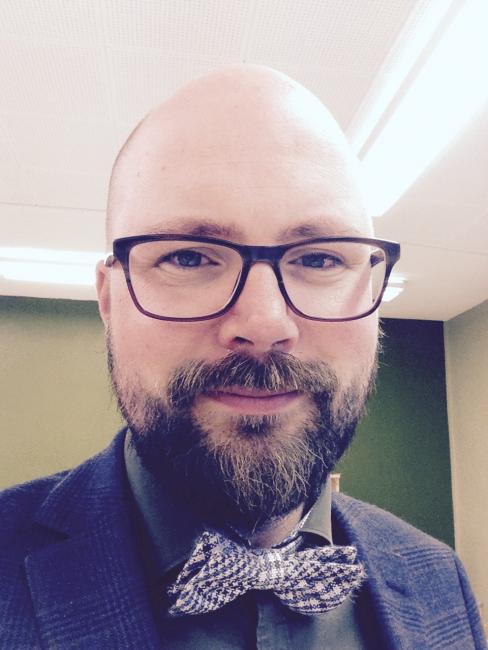 Name: Johan Blückert
Age: 32
Family: Co-habitant and a father-to-be
Education: Teacher of music and history
Profession: Teacher at Bollnäs Folkhögskola.
Johan grew up in the small mill town Vretstorp, some Sw. miles south of Örebro. It was certainly not written in the stars that music would be an occupational interest. 
"In my last school-year I planned to be a teacher of Swedish and English, but then I applied to Kävesta Folk High School and was admitted to classical piano. I had taken extramural lessons, of course, for many years, or I would not have been admitted, but music was never anything I had considered investing in."
But Johan was inspired and applied to Ingesund School of Music.
"The choice was between Piteå and Ingesund for a long time, but I opted for Arvika because I thought it was such a fantastic community. I couldn't entertain the idea of moving to a city so the other music schools in Sweden were never an option".
History – not a given subject
Johan knew all along that he wanted to study more subjects than music, but history was not a given choice either.
"First I thought about studying social studies/civics in England, but to my surprise the subject does not exist there. This school subject is based on several subjects: some political science, some history, some economics. In England I had to choose one of the subjects, so I chose history. When I returned to Sweden, I continued studying history at Karlstad University for eligibility to teach at upper secondary level.
Presently, Johan works at Bollnäs Folkhögskola, where he teaches music theory, ear-training and music history to the classical music programme students.
"I have been fortunate enough to work as a teacher in all school forms except adult education. I have taught in a school for children with learning disabilities, in a municipal extramural music school, and at all levels of education, including the university. My passion is to teach music theory and help people develop skills in analysing music and aural abilities."
Practice makes perfect
Johan draws a parallel between skills training on an instrument and being better at anything.
"One of the advantages of studying music is that there is great emphasis on how best to practise to be good at an instrument. Generally, there are three types of practice: naive, conscious and deliberate. Only because you keep doing something it doesn't mean that you automatically improve. It is much better to analyse your study technique, for example, and try to understand your mistakes. The most effective way of improving is to get help from someone who is better – a teacher or a mentor.
"Being good at something is not a condition – it's a process. You only become good if you constantly make efforts to improve. Anyone who earns a degree and thinks: "Great, now I'm done!" will never improve."
Johan's best tips to students
1. Ask your friends how they think when they write their essays, cram for exams etc. and think about what would work for you.
2. Only work when you are focused. We cannot stay concentrated for very long, so make it a rule not to work more than one hour in one go. Then you must take a break of at least 15 minutes and you move about, preferably outdoors to get some fresh air
3. Sleep, diet and exercise are vital for the body to function optimal. If studying means sitting still all day you must spend time exercising.