Professional training for language teachers
As part of the Testing Talk project, we have designed and conducted recurrent workshops on oral proficiency testing interaction and assessment designed as professional training for language teachers.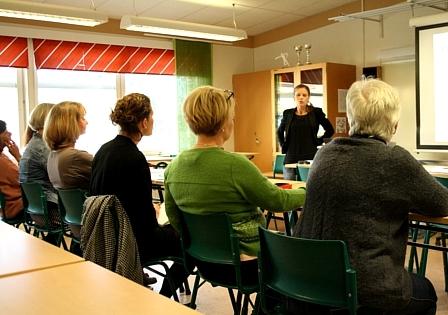 The workshops are based on our research on interaction in and assessment of oral proficiency tests and focus on common themes and problems in speaking tests. We give workshop participants the opportunity to discuss social, institutional, and proficiency issues by working with authentic recordings of authentic high-stakes tests. We conduct open workshops at Karlstad University as well as tailored workshops at participating schools.
Some voices from our workshop participants:
"Incredibly important and edifying to listen to the student interactions and discuss assessment – how we assess and why!"
"Interesting topic, and a great learning experience to pinpoint different problems that arise in real life. Thank you so much!"
"An important eye-opener! This has made me even more aware of the problems and challenges of national tests"
"Fun and interesting! Very exciting to see the effects of details on how the conversation evolves – and also, the divided focus on 'producing talk' versus 'following the test instructions'. I'd love a full day workshop next time!"
"Instructive and rewarding, and we're taking this with us back to our colleagues!"
"Great workshop format, a model that could be used in other contexts as well, for example at school subject conferences. An eye-opener!"
"Interesting structure, fun to discuss the different test recordings. I would love to do more of these workshops!"
"Interesting to analyze together, and to be able to discuss and make visible what we had seen/heard in the student dialogues!"