BECOME A HOST STUDENT FOR EXCHANGE STUDENTS
Are you curious about what it's like to be a host student to the University's international students? We can tell you!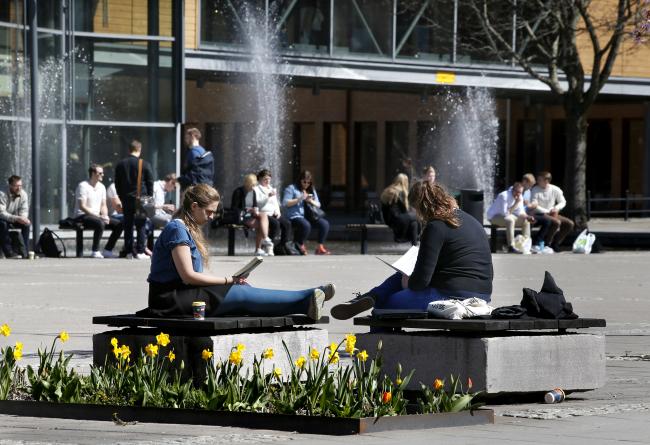 Why?
The primary reason to be an international host student is the opportunity to meet a lot of great people from all over the world and forge lifelong friendships. The international students are here to experience Sweden and meet Swedish people, which means that they are very open and easy to get to know. Plus, if you are interested in exchange studies yourself, having been a host student here first will weigh heavily in your favour.
What?
As a host student, you and your host team meet up with and help the exchange students get settled when they arrive in Sweden. It can be anything from meeting them and taking them to their accommodation to organising social events, like a dinner party or fika. You can also be involved in various University activities for the students, which is a great opportunity to get to know students from outside your own group.
When?
International students arrive a week or two ahead of each semester. One or both of these weeks is when you will be the busiest. There is nothing to say you can't keep hanging out with the students and helping them throughout the semester, but they tend to find their footing fairly quickly. You will notice that host duties are swiftly replaced by lots of great friendships!
How?
As a host student, you are typically expected to do the following:
Contact all the students in your group before they arrive to introduce yourself, get to know them, and see if they have any questions
Meet the students when they arrive, show them their accommodation, and make sure they know where to get food and other necessities. That does not mean you have to pick them up at the airport or train station – you can also meet the students at their place of residence
In the days immediately after the students' arrival, it's great if you can help with practical matters such as bus passes, phone cards, how to get to IKEA, etc.
When everyone has arrived and the University's induction week starts, your job is to stay available if they need help with anything but also to help with induction activities. The more activities you can attend, the better! A few examples of activities are guided city tours and social gatherings.
Above all, host studentship is about getting to know the students and having fun! International students know how to have a good time and how to make the most of Karlstad – embrace the opportunity.
If you have questions or would like to submit an application, please email: