Sustainability in focus
2017-12-14
One time is no time and two times is a habit. If the phrase is right, that means that Sustainability Day at the Business School is from now one a tradition. For the second year in a row sustainability issues where put in focus under the headline "Solving Global Challenges in Practice".
Lars Sandberg, innovation manager at BillerudKorsnäs, talked about the company's work for increased sustainability and consideration to the environment when it comes to food packaging. It was a theme that researcher Helén Williams also spoke about. She is a lecturer in environment and energy system, researcher at CTF and a leading expert in the field of food packaging. She has, among other things, examined the connection between the shape of packaging and the large food waste. Almost half of all produced food in the world is thrown away. A big part of the waste comes from the shops or the consumers, something that could be decreased through smarter packaging.
Part of PRME
Bo Enquist and Samuel Petros, both researchers in business administration, talked about the global work for an increased sustainability and the participation in PRME. Karlstad Business School is joined to PRME, Principles for Responsible Management Education – a part of United Nations Global Compact. It is an academic network founded in 2007, to increase awareness around sustainability issues in education within economics and leadership.
- Karlstad Business School has been accepted in the entry-level and we have now two years to show that the PRME principles give an impact at our workplace. It is about an economic, environmental and social sustainable working way in education as well as research and in our contacts with society at large. A first step is to map what is already being done, such as the research in public transportation, a sustainable work life as well as good examples from our courses and programmes. This is a job that connects directly to the Business School's goal to educate for a responsible leadership in all its forms, says Samuel Petros.
Sustainability Day is a way to work according to the PRME-principle, offering an arena for talks and experience exchange. Students studying Sustainable Business and leadership had been invited and attended the day.
Read more in unprme.org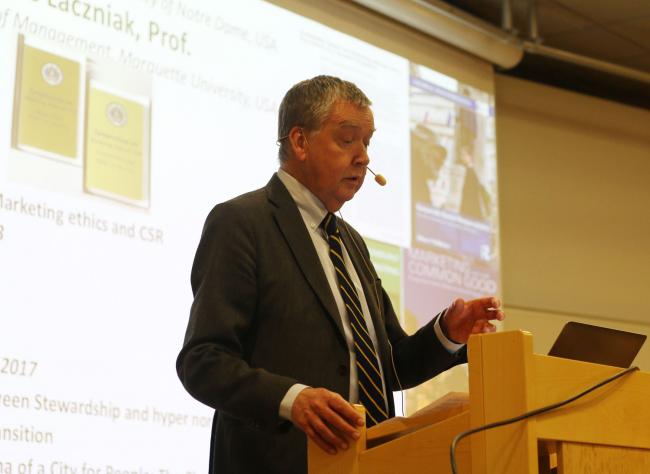 Bo Enquist, professor at CTF, gave an engaged presentation of the global development in sustainable management.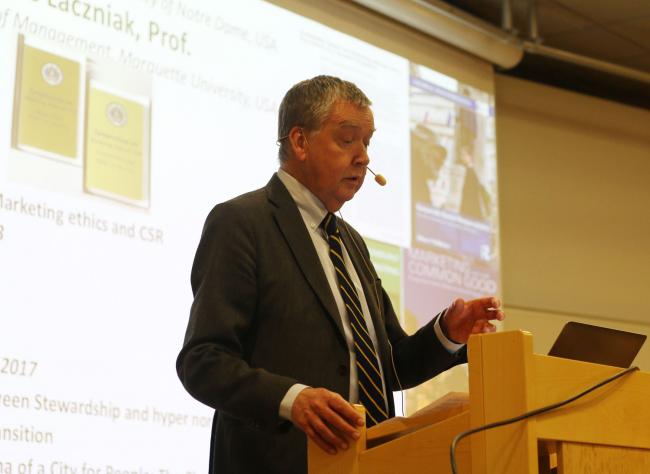 Bo Enquist, professor at CTF, gave an engaged presentation of the global development in sustainable management.