New report on quality in Law, Tax Law and Jurisprudence is available
2019-09-11
Last May the site visits to the universities were made, and now the report on cluster nine has been submitted. The Treklöver partners for quality development at Karlstad University, Linnaeus University and Mid-Sweden University have each submitted a report on the respective university. The Department of Law at Karlstad University gets positive reviews and some advice.
Cluster nine in the Treklöver partnership includes the programmes in law, tax law and jurisprudence at Karlstad University, Linnaeus University and Mid-Sweden University. Karlstad University was the coordinator of this cluster and Anders Hultqvist, professor of financial law at Karlstad Business School, part of Karlstad University, was in charge of the evaluation, which began in January, with site visits in May and now concludes with a report from each university.
"Above all, I would like extend my gratitude to the members of the assessment panel and everyone at each university who has contributed to this evaluation. It was an extensive and thorough project, in every minute detail. The result is that we have been able to identify what was good and what needs to be address or developed. Now it's up to each university to study the final report and carry out various improvements," says Anders Hultqvist.
Karlstad acknowledged for high quality
The review at Karlstad Business School included the professional degree in Law, Master's degree (60 HE credits) in Tax Law, and the degree programmes of University Diploma, Bachelor and Master degrees (60 HE credits) in Jurisprudence.
The assessors state in their report that although the Law programme is a fairly recent initiative and under development, there is a strong capacity for cooperation with external partners and actors. As further development takes place, special attention should be paid internationalisation in education and research. Generally, the approach to written skills is well thought out and well structured. This is an important strength that need to be maintained and further developed, according to the assessors.
The panel also notes that instruction in tax law is of high quality, has a high level of cooperation externally, and is characterised by a high level of methodological awareness. The panel thinks that there are good conditions to create a nationally leading specialisation in tax law in the law programme. The areas in tax law that need to be strengthened concern research ethics and a balanced gender distribution among teaching staff.
"For Karlstad, it's very gratifying that so many things are successful now and highlighted as good examples. This is true of our emphasis on writing skills and the chances that tax law can be at the national forefront. We need to increase our efforts to get a better balance of women and men among teaching staff. Internationalisation and research ethics are two areas we need to improve. At this point, jurisprudence at Karlstad University has been evaluated three times in recent years: in connection with the national UKÄ review in 2012, the application for starting a professional degree programme 2016-2017, and now in 2019 – all with good outcomes. We have every reasons to claim that law studies maintain high quality at Karlstad University. We have it on paper," says Anders Hultqvist.
The panel of assessors for cluster nine included the following members:
Head of evaluation
Anders Hultqvist, Karlstad University
Deputy head of evaluation
Rikard Karlsson, Mid-Sweden University
Frantzeska Papadopoulou, Linnaeus University
External members
Anna Jonsson Cornell, Chair, Uppsala University
Rune Lavin, Lund University
Representative of professional organisations
Anna Asp, Swedish Civil Contingencies Agency (MSB)
Student representative
Maja Hilding, Business School at Karlstads University
Vacant, Mid-Sweden University
Vacant, Linnaeus University
Background
In accordance with a new national system for quality assurance of higher education, the institutions are obliged to take responsibility for their own quality assurance, regarding performance result as well as quality development. Karlstad University, Mid-Sweden University and Linnaeus University cooperate in the new system. The partnership is called Treklövern and is led by a management team, including a pro vice chancellor and a student representative from each university. A panel of assessors is appointed for each group of degree programmes, and they review student degree projects, interview students and teachers and present a final report.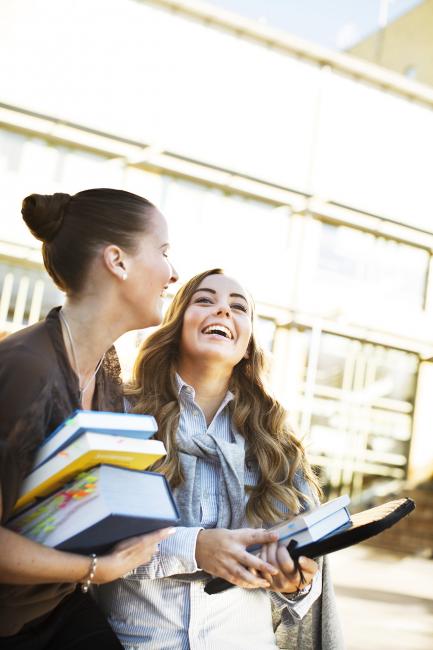 Photo: Maria Obed
The report highlights a number of good examples from Karlstad Business School.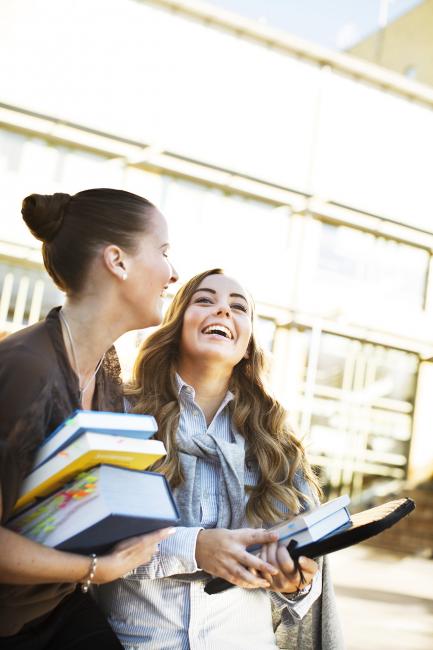 Photo: Maria Obed
The report highlights a number of good examples from Karlstad Business School.