Looking at Riga – A student's perspective
2018-03-23
SSE Riga, Stockholm School of Economics is a new international partner for Karlstad Business School. Amos and Alexandra, students from Karlstad Business School, were sent on a visit to explore this exciting new partner. Here is their travel story.
On 22nd February, we took a flight to Riga in Latvia for a two-day trip to visit SSE Riga, some businesses and meet students. The days were intense, we left with many impressions and the hope that the cooperation between Karlstad Business School and SSE Riga will soon come true.
SSE Riga is a branch of the Stockholm School of Economics based in Riga, which opened its doors in 1994 following Latvia's independence from the former USSR. Whilst the students are no more than 500 in total, the quality and student spirit permeates throughout. SSE Riga's striking building is in the middle of the embassy area and surrounded by architecture from the Art Nouveau era and green parks. It is within walking distance from Old Riga, restaurants, monuments and the Daugava River. The school is approximately two kilometers from the train station.
Good accommodation and modern facilities
The school does not have accommodation located on the campus, however apartments offered to international students are located about 15 minutes by bus from the school. The student apartments are often shared with another student but if you do not want to live in a student room, there is no difficulty in finding your own accommodation. According to Calle a Swedish medical student who studies in Riga, there is no housing shortage and if you want to share accommodation with others, you can get a really nice apartment, in a nice area, for a low cost. This is something we think is very good and beneficial for the well-being during the study at SSE Riga.
The facilities are modern but there is a clear influence from the heritage of the building. There are good areas, including the library for study and the school's lunch restaurant, which is used by both students and faculty. We think this speaks a lot about the school's atmosphere. The restaurant offers several lunch options at a student-friendly price. Lectures are held in the school's auditorium, which has a perfect balance between tradition and modern with blackboards written on in chalk and television screens, as well as projectors. We participated in a lecture on macroeconomics where the blackboard was fully-utilized. The lecture was of a very high quality and the students were actively involved answering questions and contributing to discussions and solutions to the tasks which were resolved together.
Strong alumni network
During the trip, we visited companies Gateway & Partners as well as Rimi. Gateway & Partners was founded by an alumni of SSE Riga and they work mainly to help companies export their goods and become actors in foreign markets. The fact that SSE Riga works closely with their alumni and creates a strong alumni network is very good to get a clear picture of what former students do and work as after graduation. During the visit to Rimi's headquarters, we met Rimi's Swedish CEO Edgar Sesemann, who provided answers to questions about how business is working in Latvia. It was a rewarding visit and very exciting to get an insight into the Latvian retail trade. He is also on SSE Riga's board and spoke very highly about the business and pointed out how attractive the school's students are to the labour market.
Good reputation
Something that was common from the company visits and people we met was that SSE Riga is a well-known brand and everyone agreed that SSE Riga lives and breathes high quality education. We consider this to be very positive for Karlstad Business School. Sweden is already a major player in Latvia, according to Business Sweden. Sweden is the largest foreign direct investor with approximately 16 percent of the total investment value.
SSE Riga cooperates with the Swedish Embassy and organizes the Olof Palme lectures a number of times per term. We were able to take part in one of these lectures, whose purpose is to inspire and convey knowledge about social sustainability and political ideologies. This is an excellent initiative that adds value to the students and faculty experience and which also contributes to significant social awareness beyond studies.
Active student union and rich student life
On Wednesday evening we had the opportunity to meet representatives from the Student Union during a nice dinner with good discussions. Ricard Kraupsa is the Chair and it was important for us to hear the student perspective. It is a period of intensive studies, but the Student Union is working actively to create social events. The fact that there is an active Student Union working with educational issues, business contacts and socials is very important in order to create a rich student life in addition to studies.
Given the educational quality, culture and intensity of SSE Riga, we strongly recommend and encourage cooperation between the institutions. We believe it is important that students seeking SSE Riga are extremely serious about their education and exchange and not choose the school for purposes other than receiving an exemplary education.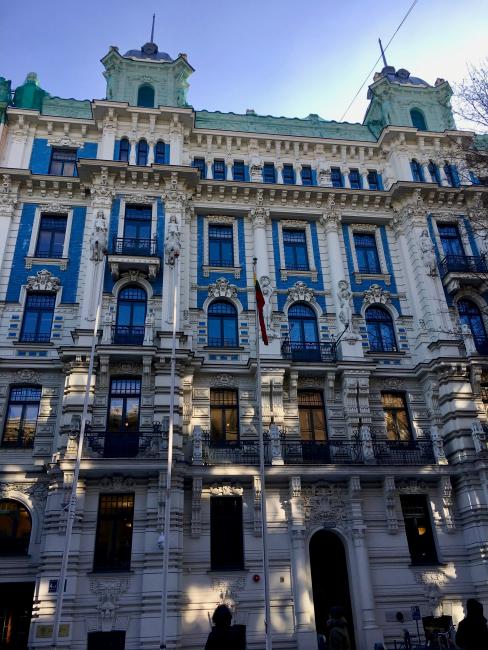 SSE in Riga was founded in 1994.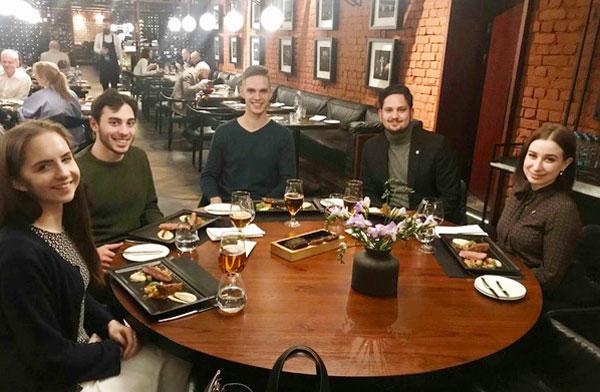 Social event and discussions with the Student Union representatives in Riga.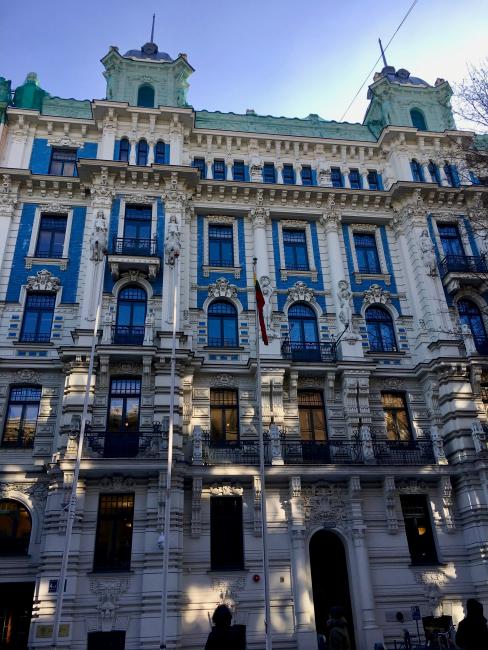 SSE in Riga was founded in 1994.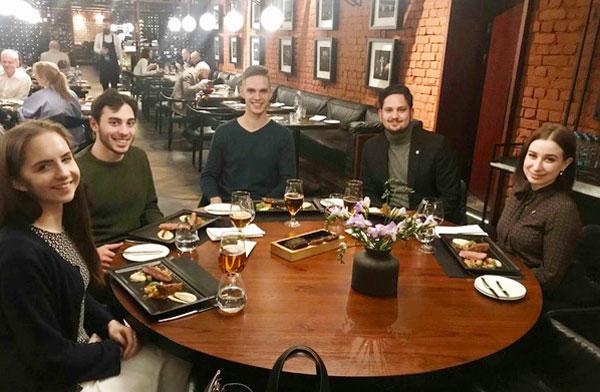 Social event and discussions with the Student Union representatives in Riga.