About our education
Around 2 500 students study at Karlstad Business School. They study undergraduate programmes, masters' programmes or doctoral studies.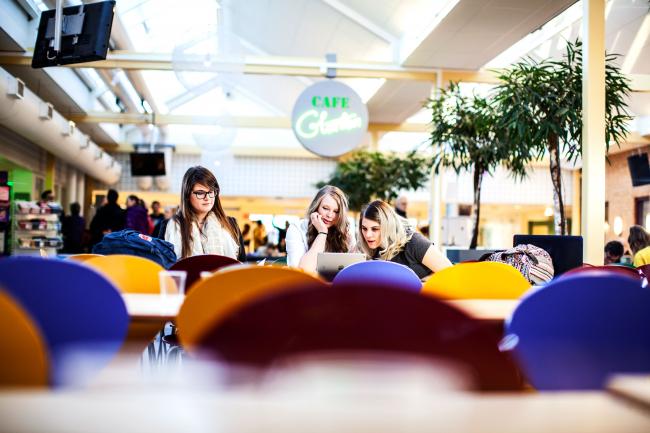 Karlstad Business School educate responsible leaders and conduct research that makes an impact. This is part of our mission statement and is emphasized in our expected outcome to offer the labour market competent, reflective, and responsible professionals. We also aim to co-produce scientific knowledge and abilities that makes an impact in academia and in private as well as public organizations. The latter emphasizes our ambition to collaborate and one of the overarching goals is to provide competitive learning opportunities and educate leadership qualities with high academic and professional qualifications. A majority of our lecturers have reach a doctoral degree and work with research projects as well as teaching.
Our close cooperation with practitioners offers the opportunity to learn about the needs and preferences of the employment market. We believe in scientific knowledge of high practical relevance through education and research in collaboration with private and public organizations. This is reflected in our motto: "Knowledge is worth nothing without the ability to use it".
Undergraduate programmes range from 180 to 270 ects credit points. Master's programmes can be either one or two years, 60 to 120 ects credit points. If you are already a professional, aiming at improving your career opportunities, we offer courses that will broaden - or put an edge to - your field of knowledge.
Studying abroad can add immeasurably to your personal development, future study and career opportunities. We encourage students to expand their horizons and an increasing number of students choose to spend one or two terms at a university in Austria, Germany, China, India, Spain, South Korea, USA or somewhere else in the world. We facilitate these opportunities through long-standing partnerships and exchange programmes (including Erasmus). It is also with great pleasure we welcome an increasing number of international students who have chosen to study at Karlstad Business School.
Since cooperation with business and organizations is important to us, we offer av variety of  ways in which students and future employers can interact. Practical training as part of the education, job fairs, mentorship, breakfast meetings and guest lectureras are all activities that you will benefit from as a student at Karlstad Business School.
"The teachers are competent and genuinely engaged in education. Their wish for every student to embrace knowledge, transform it into understanding and an ability to use it in practice when its time for graduation"
                                                                                                               Carl Allert, student of Business and Economics