HOW DISTANCE LEARNING WORKS
Once you have decided to study, distance is not an obstacle. A number of programmes and courses can be taken from home. Please note that most programmes and courses have some compulsory on-campus meetings at Karlstad University.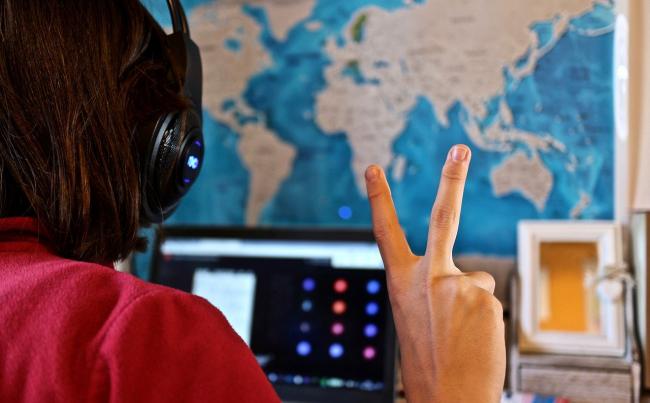 Distance courses and programmes typically start with a group introduction on campus. If your course or programme has compulsory on-campus meetings, these may last for one or several days. Make sure to read the information for your specific course or programme.
Distance studies can often afford more flexibility than on-campus studies and may be a good alternative if you cannot or do not want to move. They do, however, require as much time as on-campus studies. Full-time courses and programmes require a pace of 40 hours/week, while half-time courses and programmes require a pace of 20 hours/week.
ADMITTED TO A DISTANCE COURSE OR PROGRAMME
When you have been admitted to a course or programme, you need to register on My Kau, which is a personalised digital service for students at Karlstad University. There you can carry out administrative tasks that pertain to your studies as well as read your introductory information, see your schedule, and find an overview for your course or programme.
Information about your course structure, compulsory components, and examinations can be found in the learning environment Canvas. You can reach Canvas through My Kau. Please note that you have to be registered for your course before you can access it in Canvas. In Canvas you will also be able to communicate with teachers and other students.
Before you are registered, there is an open course in Canvas that will let you become acquainted with the learning environment.
MODERN TECHNOLOGY
Modern technology makes distance learning easy. Karlstad University uses Zoom for lectures and group projects. You can also use the tool's chat function to talk to your fellow students. For an optimal experience, download the client to your computer and log in with your KauID. You will need access to headphones and a microphone.
ACCOMMODATION FOR DISTANCE STUDENTS
Most distance courses and programmes have compulsory on-campus meetings a couple of times per semester. These meetings can entail full days of teaching, and if you live far from Karlstad, you might need to stay overnight. There are many hotels and hostels in Karlstad where you can book accommodation.
STUDY CENTRES
Study centres are available in many locations throughout Sweden, making higher education accessible to more people. Many distance courses are connected to study centres. There you will have access to computers, printers, study areas, group rooms, and staff who can offer support and advice. You will also be able to watch lectures in real time through Zoom. Study centres are also helpful for those who find it hard to focus — or are unable to work uninterrupted — at home.
 Leder till Canvas egen sida eftersom originallänken är svensk.