Distance examination
Distance students are always welcome to sit exams free of charge at Karlstad University. It is also possible to sit an exam at a number of places in Sweden, at Swedish embassies, and at universities abroad that have an exchange agreement with Karlstad University.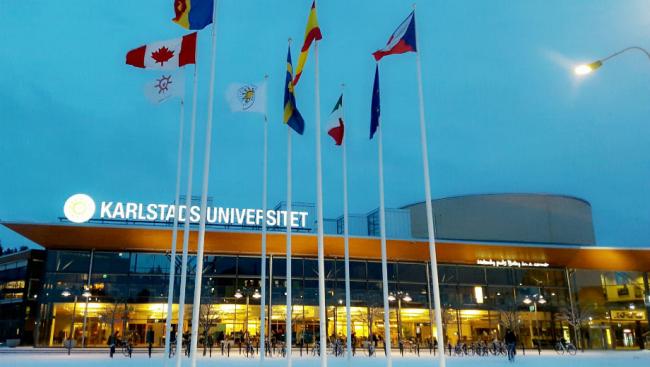 Most of the local study centres that we collaborate with offer this service without any cost to the students, but in some cases a fee is charged. In the right-hand column below there is a list of all the local study centres that charge a fee. Remember that you are always welcome to take your exam free of charge at Karlstad University.
Locations offering exam service
The map below shows local study centres in Sweden offering exam service to distance students from Karlstad University. The map also shows which study centres offer this service free of charge. Click the image to open a pdf-file in a new window. If you prefer a list to a map, see the right-hand column.
Teacher education in collaboration with local study centres
Teacher education students admitted to a specific programme location will sit exams at the specified local study centre. This applies to students on the following degree programmes:
Early years education programme
Primary education programme
Teacher education with specialisation in Swedish/English, or extended school education
Examination time
In order to assure that distance examination is legally defensible, there are certain rules regarding examination time. When you sit a distance exam at a local study centre, the starting and closing time of the exam differs from the exam on campus. The hours listed below normally apply, but may vary if local study centres need to coordinate several examination sessions.
| | | |
| --- | --- | --- |
| Campus |   | Study centre |
| Starting time 08.15 | = | Starting time 09.00* |
| Starting time 14.00** | = | Starting time 13.00 |
* Study centres may not grant students arriving after 09.00 entry for any reason. This is to ensure legal defensibility. Make sure to be on time!
** Not applicable for long examinations (5 hours, 14.00-19.00). For these occasions, the starting time at the study centre is 12.00-17.00.
When a campus exam starts at 14.00, students at the local study centre are not allowed to leave the premises before 14.45. If, however, several exam sessions are being coordinated at a local study centre, the time at which students are allowed to leave the premises might be later than 14.45.
Please observe that most local study centre have a limited number of seats for distance examinations. You are therefore not guaranteed a spot at the desired centre. To improve your chances of getting a seat, register well ahead of time! If you are unable to make your booking, make sure to unregister and give your seat to another student.
Please note that distance examination never takes place in the evening or on weekends.
Withdrawing your registration.
If you for some reason can't participate in a distance examination that you have registered for, it is very important that you withdraw your registration. You can do this both before and after the signing-up period has ended.
If you wish to withdraw your registration for a distance examination before the signing-up period has ended, please do so via My Page.
If the signing-up period has already ended, please notify the concerned local study centre directly.