Research symposium on Marketing Ethics and Corporate Social Responsibility
2019-04-24
Researchers from Europe and North America met at Karlstad University to discuss the broader perspective of Marketing ethics and CSR with a focus on the role of positive and normative marketing ethics, and the change in business ethics due to Artificial Intelligence (AI) and Blockchain Technology at "The 7th Pat Murphy International Symposium on Marketing Ethics and Corporate Social Responsibility".
More than 25 researchers from several countries in Europe and North America attended this year's symposium which was arranged by CTF and Karlstad Business School on April 7-9.
"It was a successful symposium, which covered different areas of marketing ethics and CSR ranging from ethical ramifications of artificial intelligence and blockchain, to papers focusing on ethics in pharmaceuticals, food, consumption, and vulnerable consumers, to sustainable tourism, recycling, luxury sustainability, food marketing to children, network, integrative justice, and the bottom of the pyramid. We also had an open workshop for faculty staff, researchers, students and alumni, on understanding the implementation of Sustainability Developmental Goals of Agenda 2030, with presenters from University of Notre Dame, USA, Auburn University, USA, Hanken School of Economics, Finland, and CTF, Service Research Center at Karlstad University, and Karlstad Business School," says Samuel Petros Sebhatu, researcher and lecturer at CTF, Service Research Center, and Karlstad Business School, who arranged this years' symposium together with Professor Bo Enquist.
It was the first time the symposium was held in the Nordic Countries, and there are two main reasons why the researchers decided to arrange this symposium in Karlstad.
"First of all, Professor Bo Enquist and I have been a part of this symposium and network since the beginning, and have studied CSR and ethics for several years. Having this symposium, with world leading researchers in the Nordic countries for the first time will have a positive impact on CTF, Karlstad Business School, and the university. Secondly, we are also working on implementing PRME, Principles of Responsible Management Education, in the business school. PRME is a United Nations-supported initiative founded in 2007 as a platform to raise the profile of sustainability in schools around the world, and to equip today's business students with the understanding and ability to deliver change tomorrow. The journey to be a member of PRME started some years ago with a need for integrating sustainability research and quality education at our business school. This symposium was an inspiration from the beginning and had a significant role in realizing PRME as a means for assessing our engagement towards sustainability and our communication with the stakeholders. Therefore, this symposium is contributing to our work on PRME and setting up a foundation to implement the Sustainability Developmental Goals of Agenda 2030." Says Samuel Petros Sebhatu.
The symposium is initiated by Professor Patrick Murphy, The Nanovic Institute and Mendoza College of Business, University of Notre Dame, USA, to create a bridge and discuss the progress of business ethics and CSR, and to encourage young researchers in this area of study. The idea is also to develop a continuous association and networking between the North American and European researchers. The first, and third symposium were held at the Notre Dame Global Gateways in London, UK, and Rome, Italy, respectively. The 2nd symposium was held at University of Cork, Ireland, the 4th at EDHEC in Lille Campus, France, the 5th at University of Notre Dame, USA, and the 6th at Nottingham Business School, UK.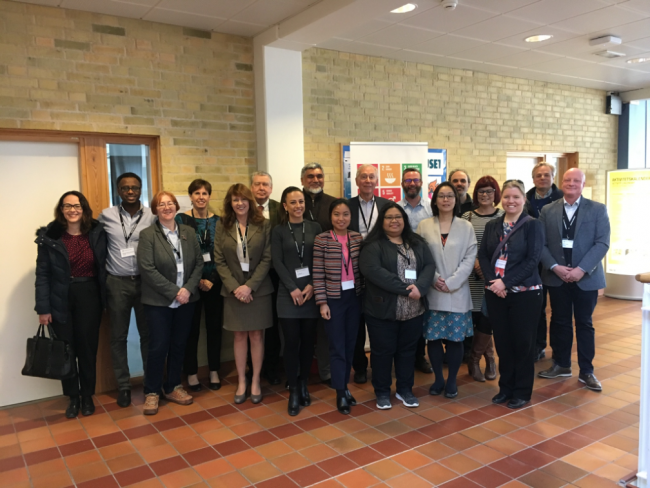 Group photo from this years symposium at Karlstad University.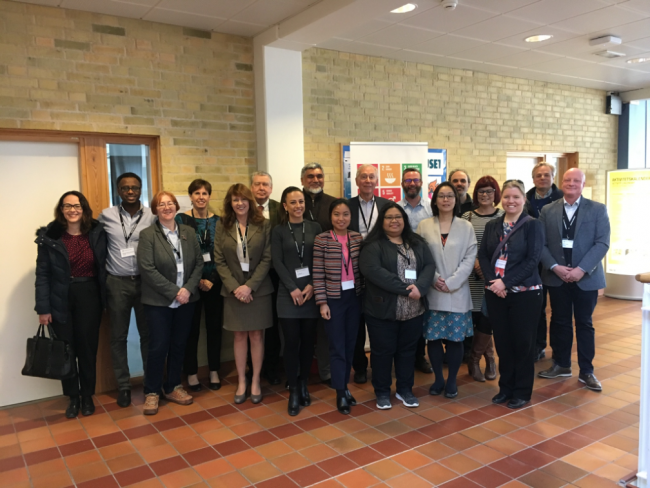 Group photo from this years symposium at Karlstad University.