The innovative concert experiences of the future
2022-10-11
The music industry spends a lot of resources on creating innovative concert experiences, and the relationship between the musicians and their fans. With the show Abba Voyage, a giant step is taken towards developing and transforming an already digital industry. A project team from Karlstad University has been in London to take a closer look at a hybrid concert experience.
As a part of the project Music Ecosystems Inner Scandinavia (MECO), Linda Ryan Bengtsson, Jessica Edlom and Jenny Karlsson at Karlstad University have conducted research on fandom in the music industry. Their findings show that streaming platforms and social media play a big part in how musicians communicate with their fans. Digital media formats is a necessity these days, and Abba Voyage is definitely digital.
It's a show where the most famous pop quartet in Swedish music history performs a hybrid experience unlike anything else. And it's happening right now.
- It's a 360 degree experience, says Linda Ryan Bengtsson, senior lecturer in Media and Communication Studies. There are huge screens all around, and different lighting arrays being hoisted up and down from the ceiling. It's also interesting how they ,manage to get the so-called 'Abbatars' to communicate with the audience, and how fans are invited to participate all the way, from standing outside until they leave the arena.
- The interest in understanding how music is produced, distributed and consumed, as well as how new forms are developed, began in previous projects, says Jenny Karlsson, senior lecturer in Business Administration. From a research perspective, we are interested in studying how fans engage with this kind of experiences, both in the digital and the physical world. We were there to gather data for our new study, to observe and invite both the audience and other actors to participate in the study.
Jessica Edlom, lecturer in Media and Communication Studies, thinks that the sustainability perspective definitely needs to be considered in relation to the music industry. Perhaps ABBA Voyage is an example of a more sustainable entertainment format?
- Are global tours justifiable? Could the digital solution, specifically placed in London, be a solution? This is definitely something we will consider in our work with to the Scandinavian music industry.
Matching the success of ABBA is difficult for any band, of course. But adapting a digital approach to their careers doesn't have to be an unattainable goal.
- ABBA Voyage demonstrates that an experience doesn't have to be less real just because it's digital and not live in the classical sense, says Linda Ryan Bengtsson. It's the whole context that creates the events, and if everyone (in this case the fans) agree together that this is a real experience, that's enough. This can be applied to others projects in various ways.
What is important for a show like this to actually work and attract an audience?
- An existing fanbase that already know all the stories surrounding ABBA, the movie and the musical, is incredibly important, says Linda Ryan Bengtsson. The fans have an agreement with the band before they even enter the arena.
- ABBA has built their own ABBA universe for many years, with various kinds of experiences, says Jenny Karlsson. They've lived on and built up a mystique around the band. The merging of past, present and future is exciting to many people.
Jessica Edlom elaborates: The creators of ABBA Voyage have managed to reinvigorate a band that hasn't played together for 40 years, created a solid and exciting show, and even considered the context surrounding it. They have also very clearly been working with both new and old generations of fans. Everyone is included.
- It's important to remember that there is a long development process behind creating an experience of this kind, says Jenny Karlsson. A lot of expertise, technology and other resources are required to put together such an elaborate show of such high quality. Parts of this concept could absolutely be used in other projects, especially as inspiration for new innovations at different levels.
- During our visit, we experienced the start of a kind digitalised experience that will be further developed in the future, says Carolina Camén, senior lecturer in Business Administration and new to the project. The technology for digital live shows have been developed now. In the future we will see different solutions to how to experience music and art. It could become a trend in the experience economy, where the borders between the physical and the digital are removed, and where avatars can interact and create a relationship with the fans and the audience.
Can you tell us a little about your observations from the event?
- Different actors interacts and create value together, says Jenny Karlsson. We observed actors and asked both people in the audience and employees to be respondents in our study, both at the event in question and at Snoozebox, which is right by the arena. Snoozebox is a kind of hotel built from containers, with restaurant, lounge, bar and a dance floor where parties are organised before and after ABBA Voyage. It gave the audience the opportunity to bond with each other, creating and affirming social identity. We chose to focus on the understanding the process of co-creation by different actors and how they act like an ecosystem of integrated services that can create value.
- Our respondents thought that the show was overwhelming and extraordinary, and all of them wanted to see it again. This says something about the emotions generated by the experience, says Jenny Karlsson.
Fandom
A fandom is a subculture of fans, characterised by empathy toward and camaraderie with others who share the same interest.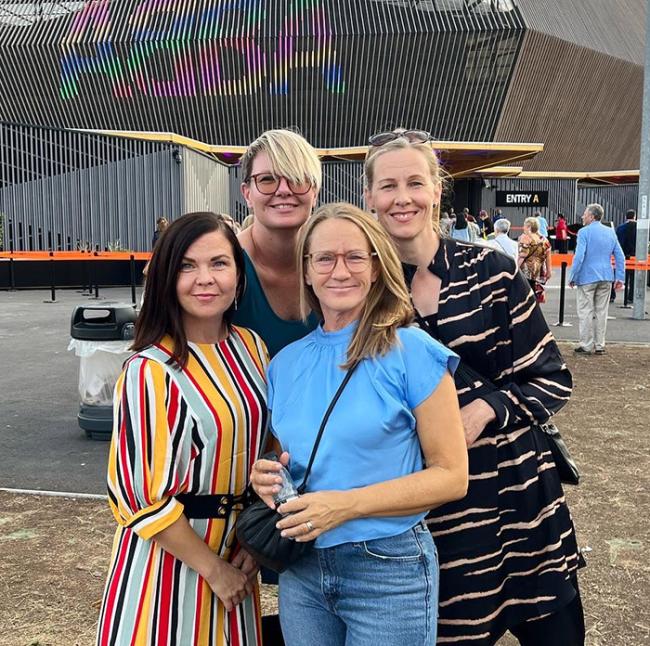 Jenny Karlsson, Linda Ryan Bengtsson, Jessica Edlom och Carolina Camén.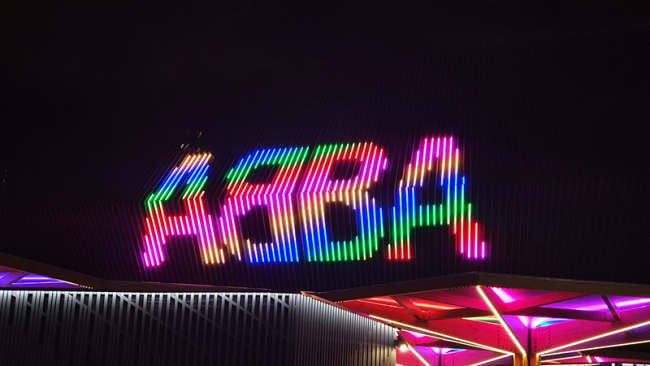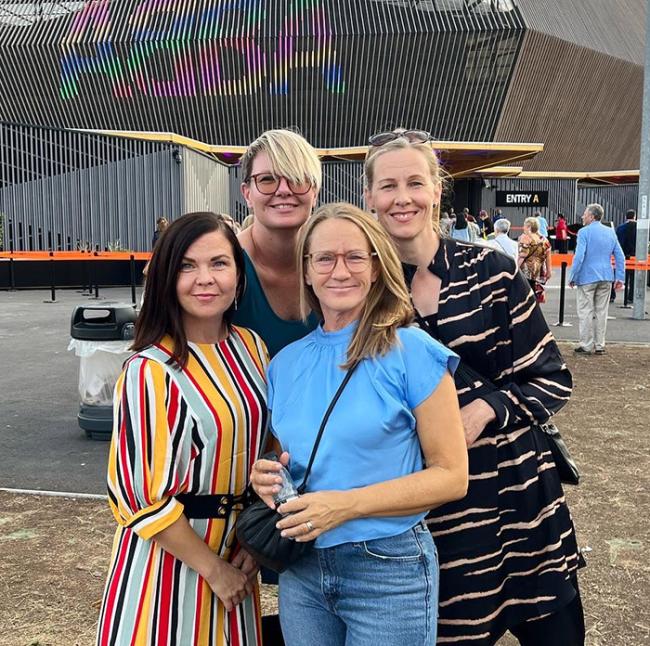 Jenny Karlsson, Linda Ryan Bengtsson, Jessica Edlom och Carolina Camén.