The fifth edition of Service Innovation Day
2021-06-15
Innovation, transformation and sustainable development during changing times marked by the pandemic were in focus at CTF´s Service Innovation Day 2021 where the participants listened to presentations from Vinnova, Ikea, Systembolaget and Ica Maxi on how they work with these issues. Researchers at CTF presented insights from research and the Swedish Innovation Index 2020.
For the fifth time, CTF, Service Research at Karlstad University arranged the seminar "Service Innovation Day" (Tjänsteinnovationsdagen), which attracted just over 100 participants on Zoom. This year, Nina Löfberg, researcher and senior lecturer at CTF and Karlstad Business School was moderator. First out among the speakers was Annika Zika-Viktorsson, senior analyst at Vinnova, who shared some insights into how Sweden's innovation agency works.
Lars Witell, professor of business administration at CTF, presented the Swedish Innovation Index, which measures companies' and organizations' ability to innovate based on how customers experience it. The method, which was developed by CTF in collaboration with NHH Norwegian School of Management and Fordham University, USA, is now beginning to spread.
Per Kristensson, professor and director at CTF, presented the results from the 2020 survey where Ikea, Spotify, MTRX, Systembolaget and Verisure ranked in the top five, and where the safety sector is perceived as the most innovative industry.
"Systembolaget, H&M, the Swedish Tax Agency, SJ and TRE have highest increase in innovation capacity in recent years, and it is interesting to look at what they have done and to learn from it. Other companies invest a lot in innovation, but if it is not done with focus on the customer and based on customer's needs, it is not visible in our measurements," said Per Kristensson, who also pointed out that the purpose of the Swedish Innovation Index is to complement other measures to create a better picture of how organizations succeed with innovation.
Frida Jarlbäck, business developer at Systembolaget, gave an insight into the work at Systembolaget and how innovation is about constant development and trying to make everyday life easier for customers and employees. Ikea, that is ranked as Sweden's most innovative company for the third year in a row, was represented by Reza Shomali, business development & transformation manager. He talked about Ikea's sustainability journey, work that is based on customer needs and how Ikea can create better and a more sustainable existence and everyday life at home. Johan Quist, associate professor of business administration at CTF, reflected on innovation in the public sector and that much of the upcoming development will be systemic in nature.
Finally, Lars Witell invited food retailer Christer Johansson from Ica Maxi to talk about how the pandemic has hit the market, and how more innovative companies have succeeded better in implementing changes to manage the pandemic's impact on their operations. This can be seen in the 2020 Swedish Innovation Index where Coop, Ica, Ikea, Hemköp and Lindex have succeeded the best in introducing measures such as increased social distancing and making customers feel safe while shopping.
The Service Innovation Day is a recurring event which is carried out in collaboration with Karlstad Business School at Karlstad University. It is an activity within the project DISCERN with support from several partner companies and the Knowledge Foundation. The Service Innovation Day was recorded and is available at Youtube (only available in Swedish).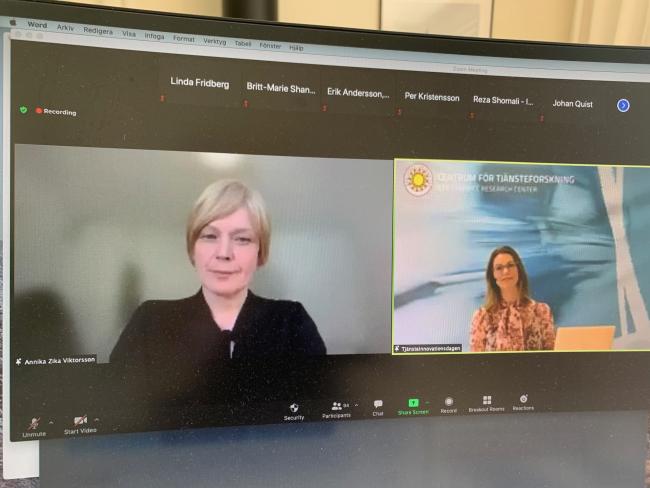 Annika Zika-Viktorsson and Nina Löfberg.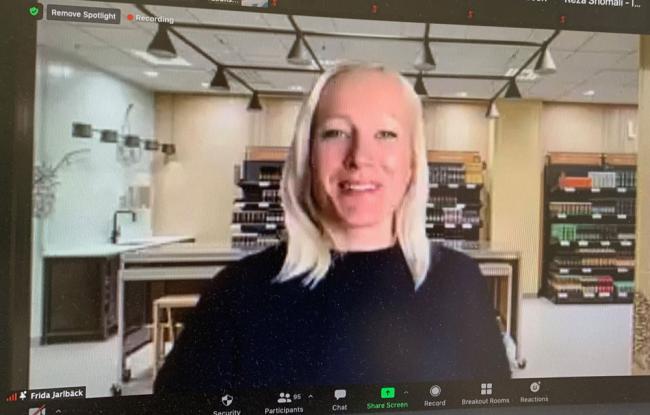 Frida Jarlbäck from Systembolaget.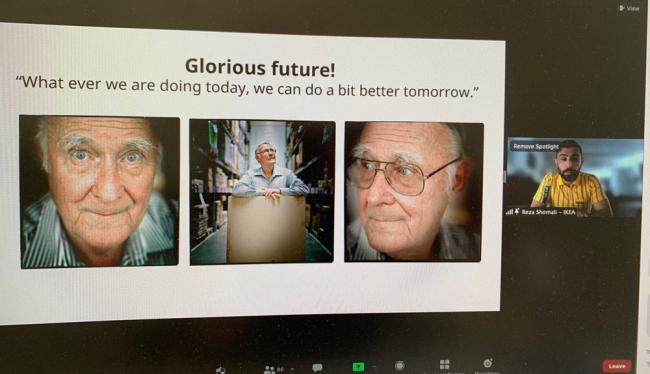 Reza Shomali from Ikea.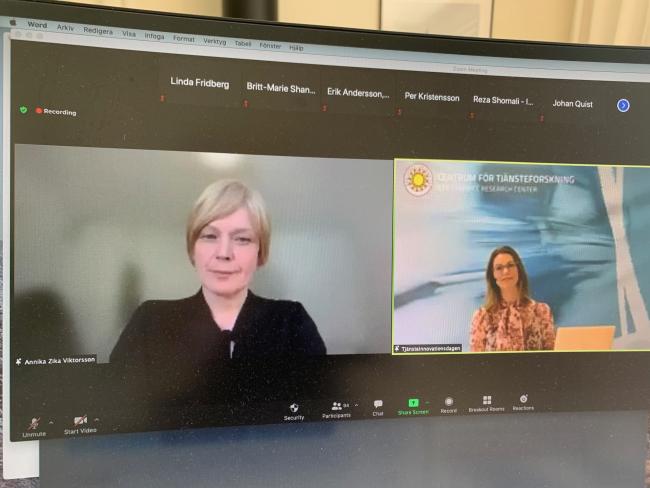 Annika Zika-Viktorsson and Nina Löfberg.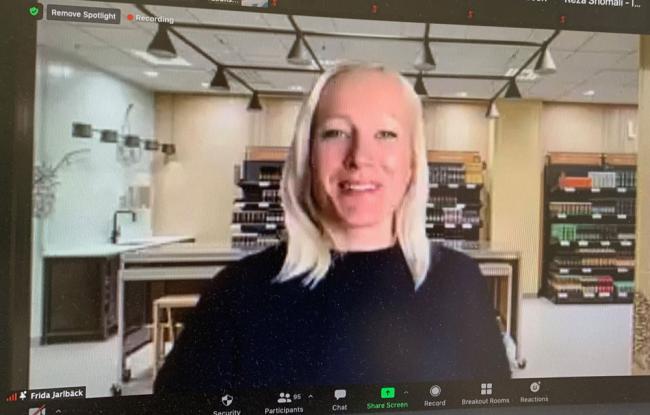 Frida Jarlbäck from Systembolaget.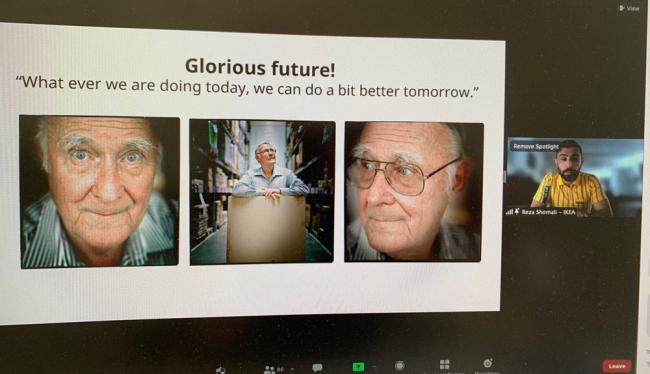 Reza Shomali from Ikea.