Blog: The role of boundary objects in innovating product meanings
2023-11-15
Understanding what products mean to users or potential customers has always been of key importance for innovation practitioners and designers. In fact, products often related to our identity as users, contributing to providing meaning to our daily lives. However, innovating product meanings can be a challenging endeavor for companies.
Product meanings and their intangible nature
Meanings are a rather intangible concept, and individual interpretations play a key role in understanding what a product means to a person. Thus, when conceiving new meanings to attribute to products, two main challenges typically arise:
First, individuals need to bridge their interpretive differences, establish a common language and a way to talk about meanings minimizing their subjective interpretations.
Second, meanings are often formulated in the form of new sets of values, which tend to be abstract and vague. The transition towards product development requires making such vague concepts concrete and visible.
The literature had already proposed the use of representations – namely "moments of meaning" – to illustrate meanings in practice. In this article, we extend the notion of the moments of meaning by illustrating how they work as boundary objects throughout the innovation process.
Boundary objects to overcome the interpretive barriers
Boundary objects have been discussed in the literature as any type of artifact that can provide a common ground for discussion across boundaries, for example between strategic decision makers and development teams. Boundary objects have widely been studied in their more pragmatic role of integrating diverse knowledge and skills to better refine ideas, or develop new concepts. For example, prototypes are material representations that allow for coordination across different knowledge domains. In our study, we extend the knowledge related to boundary object to the whole innovation process, looking at how they evolve during the different phases that go from the development of a new vision to prototyping.
Four kinds of boundary objects
Our longitudinal study of an innovation of meaning project shows that moments of meaning as boundary objects take different forms throughout the process. In the early stage of the innovation process, metaphors are boundary object that allow to discuss the new vision and the often vague and intangible concepts associated with the new product meaning envisioned. Moving toward implementations, the boundary objects aim at representing a first, rough, idea of the new product, by working on analogies or schematic representations. In the later stages, concepts work as boundary objects by illustrating the interaction between users and the new product. Thus, different forms of moments of meaning work as boundary objects during the innovation process, helping to cross different boundaries: a semantic boundary at first, when agreement on the new envisioned meaning needs to be established; a pragmatic boundary later on, when development teams need to align on the technical solution.
Practical implications
So, when and how should companies incorporate boundary objects within their innovation processes?
Artifacts and innovation go hand in hand: artifacts are essential tools to be designed and used during an innovation process given their potential to support cognitive activities from individuals and teams.
Identify the teams needs: understanding what alignment or communication issue emerge at different stages allow companies to understanding whether semantic or pragmatic boundary objects might better serve the purpose of (re)aligning the innovation teams.
Diversify the use of boundary objects throughout the process: different artifacts can support different functions, from making intangible concepts clear, to aligning teams with different knowledge. Understanding the need in each stage is key to work with the right boundary object.
Conclusion
Translating abstract visions and value into new product designs is not straightforward. Using boundary objects both at the strategic and the development level can ensure better alignment towards the vision, collaboration, and ultimately the proper embodiment of such intangible values into a new product.
Federico Artusi, Assistant professor in Business Administration
Reference
Zasa, F. P., Artusi, F., & Verganti, R. (2023). Through thick and thin: The moment of meaning as a boundary object. Creativity and Innovation Management, 32(3), 517-533.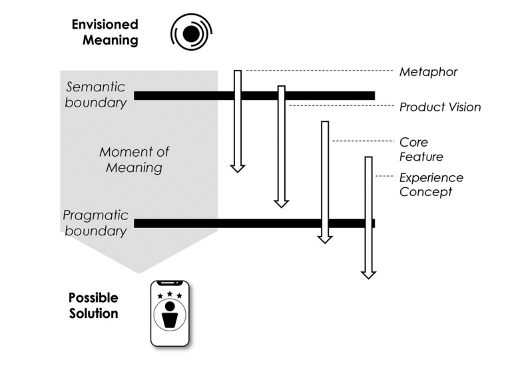 Working with different boundary objects in different stages of the innovation process (Zasa et al., 2023)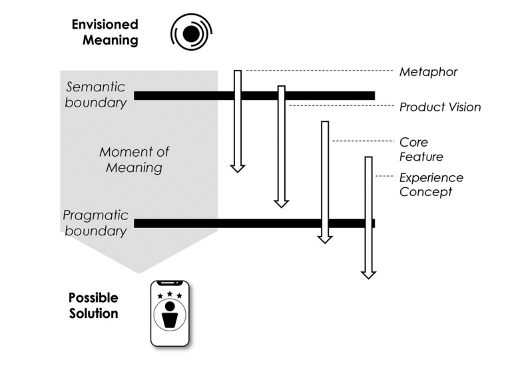 Working with different boundary objects in different stages of the innovation process (Zasa et al., 2023)