30 years celebration at CTF
2016-10-20
Thirty years ago CTF, Service Research Center, was established at Karlstad University. How it happened, success factors and the latest from today's research were included in the program when CTF held its anniversary celebration on October 6th at Karlstad University.
Martin Löfgren, Deputy Head at Karlstad Business School at Karlstad University, opened the event and welcomed everyone. Patrik Larsson, Dean at Karlstad University and former director of CTF, held a keynote speech where he reflected over CTF as a research center with international prominence, a nursery and a family. He also talked about internationalization, collaboration and the strong sense of community as factors which have contributed to the success.
CTF's founder, the current Director and future Director, Bo Edvardsson, Henrietta Huzell and Per Kristensson reflected on the journey the center has taken since the start in 1986 when CTF, which then consisted of a handful researchers housed in barracks at the former Karlstad University college, was established until today when the center is one of the world leaders in service research.
Examples from academia and practice
After a nostalgic introduction the focus shifted towards the latest developments and research in the area of service. The presentations alternated between theoretical development and practical examples from both academia and practice. Many of the speakers emphasized CTF's role as an international node for service research.
Sofie W. Elfving, Research Manager at Ericsson gave a brief insight into Ericsson's digitalization- and servitization transformation and how to create new business and relations with existing resources. Service logic, according to Professor Christian Grönroos, Hanken, Finland, is fundamentally about how organizations provide resources that create conditions for value-creation. Ph.D. Katarina Wetter Edman, Konstfack, Stockholm, spoke about service design and how it is about understanding the recipient. Professor Tor W. Andreassen, Norwegian School of Economics, talked about Service Innovation. Professor Jochen Wirtz, National University of Singapore, talked about "service revolution", how to turn around a failing service organization. Professor Javier Reynoso, Monterrey Institute of Technology, Mexico, spoke about service research at the base of the pyramid, this means the need and relevance of service research in the huge segment of society who lives with less than 9 USD per day. This represents 67 percent of the planet, and yet we only have started to realize the importance to expand our research scope into it.
A bridge between academia and practice
During the years several doctoral students have passed through the center. Patrik Larsson put this as "CTF as a nursery" in his opening speech. Some have stayed in academia while others have taken the leap to the practitioner's side. How this journey might look like is what former PhD students Bodil Sandén, Sara Björlin Lidén and Jonas Matthing, talked about. Current PhD students gave a brief insight into their research, which range from service eco-system, purchasing behavior, user involvement in service development and how to achieve behavioral changes. At the end of the day there was a panel discussion on the theme of collaboration. Researchers and partners from the private and the public sector talked about how they interact and what effects come from it.
International Fellows, service reflection and entertainment
Professors Ruth Bolton, Arizona State University, USA, Tor W. Andreassen, Norwegian School of Economics and Javier Reynoso, Monterrey Institute of Technology, Mexico, were awarded "International Fellow of CTF". The award is given for "Long term and significant contributions to the service research field and to the development of CTF".
The Swedish author and popular speaker Klas Hallberg entertained the audience in the form of service reflections throughout the day. Students from Ingesund School of Music entertained with lunch music. The celebration ended with an anniversary dinner at Karlstad CCC.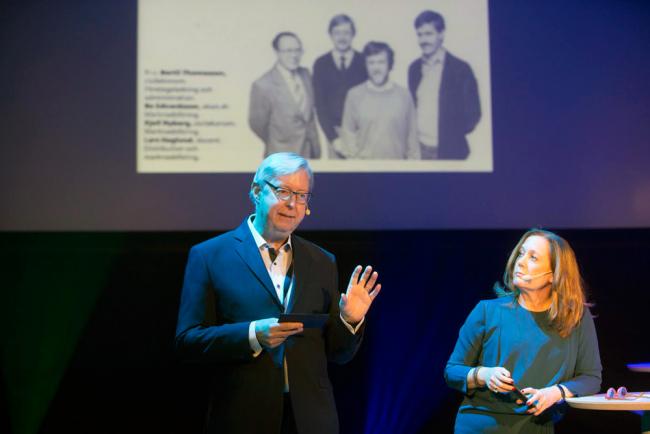 CTF's founder Bo Edvardsson and director Henrietta Huzell talked about CTF's service research journey.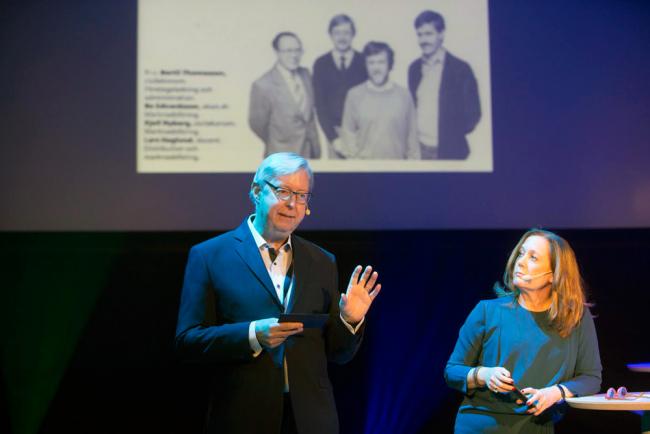 CTF's founder Bo Edvardsson and director Henrietta Huzell talked about CTF's service research journey.