About the Centre for Societal Risk Research
The Centre for Societal Risk Research, CSR, is a research centre at Karlstad University. Our focus is society's understanding and management of risks in a society where risk and safety issues becomes increasingly complex and prioritized.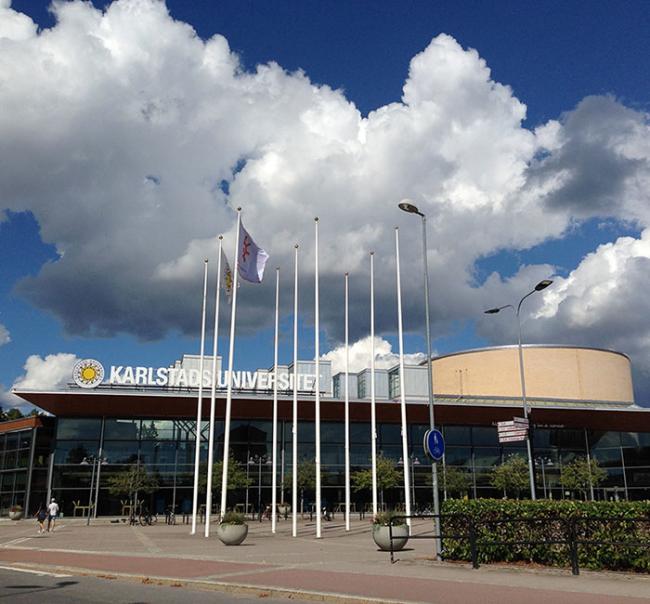 Co-funding and development collaborations
Through a development collaboration between CSR and the Swedish Civil Contingencies Agency, MSB, during 2019–2021 the agency takes part as co-funder for CSR's activities. The aim of the collaboration is to support research in the field of climate adaptation and natural hazards as well as providing CSR opportunity to support the agency with analyses and overviews of the current knowledge in the field.
Through a collaboration with Karlstad municipality during 2020–2022 the municipality takes part as co-funder for CSR's activities. The aim of the collaboration is to support work in the field of societal risks in the municipality through research and communication. CSR is also a component in an ongoing discussion on the formation of a centre for societal safety in Karlstad.
CSR's co-funders are represented in the CSR board.
Background
CSR was inaugurated in 2020 as the product of a merging of two previous research centres at Karlstad University: the Centre for Climate and Safety, CCS and the Centre for Public Safety, CPS. Important arguments of the merger was to stimulate larger research projects, increased international collaboration and administrative synergies.
The predecessor Centre for Climate and Safety was formed in 2008 as a transdisciplinary research centre that aimed to act as a resource in research and learning on climate related risks and the management and governance of these. To a large degree CCS was aimed at uncommon and relatively big scale events connected to extreme weather such as heavy rain, floods and windstorms. The other predecessor Centre for Public Safety was formally started in 2013 and aimed at providing a collected cross-sectorial support for public safety work connected to everyday events. The work of CPS was also to a large degree transdisiplinary consisting of research, inquiries and development.
Collaboration between CPS and CCS increased over the years, partly as competences in the two research centres also had been the foundation on which a masters programme: Risk Management in Society had been built, but also through the formation of a new discipline: Risk- and Environmental Studies, at Karlstad University in which both centres had their core activities. Another area of collaboration was the development and use of the RiskLab, a physical environment used for research communication, pedagogic models and education within the societal risk area.
During the years up to the merger there also was a perceivable change in how society managed risk and safety which made such issues hard to categorize as "climate related" or "public safety related". Focus instead gradually shifted to risks for society where factors such as climate, society and human interact in complex ways. 
Organization
A research centre at Karlstad University is a formation ment to facilitate and develop research collaboration over disciplinary, departmental and faculty borders. Research centres at Karlstad University conducts research, evaluation and inquiries within a multi-disciplinary thematic area. As such the research centre aims at increasing interdisciplinary collaboration within the university as well as collaboration with actors outside of the university.
A research centre at Karlstad University is characterised content-wise by its focus on creating, developing and nurturing knowledge in a specific thematic area that encompasses more than one discipline. The foundation of a research centre is the research competences tied to the centre. 
The Centre for Societal Risk Research, CSR, has its organisational placement in the faculty of Arts and Social Sciences at Karlstad University. CSR has a close connection to the discipline Risk- and Environmental Studies at the department of Political, Historical, Religious and Cultural Studies, a discipline where many of CSR's researchers are employed. CSR's researchers do however come from a wider range of disciplines, mainly at Karlstad University but also from other universities in Sweden and abroad. Several advisors with backgrounds in the private or public sectors are also tied to CSR.
CSR's research questions are trans-disciplinary and requires expertise from natural sciences, social sciences, the humanities and applied sciences to find answers and solutions. All taken together this makes CSR a broad and multi-disciplinary group. 
Director
2020 -
Professor Mikael Granberg, Political science
Associate professor Finn Nilson, Risk- and Environmental Studies
Board
The board of the Centre for Societal Risk Research is made up of people that work with societal risk issues, climate adaptation or public safety in various ways. The role of the board is to work in a wide manner with ensuring the quality and societal relevance of work done by CSR. The board contributes with valuable experiences and competence in discussions on CSR's development, budget and other strategical issues. The board meets two times each year, once in spring and once in fall.