Alumnus of the month: "Choose your own path – it's more fun that way"
From the Netherlands to Sweden, via Norway. This month's alumnus has always enjoyed using both his head and his hands, and therefore focussed on innovation and design. Now he has found his dream job.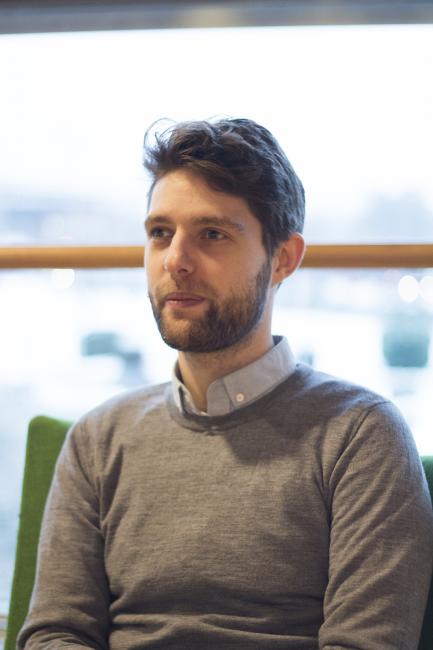 Name: Tjalling Chaudron
Age: 30
Family: Partner, child, dog
Education: Innovation and design engineering
Job: Product developer at Moelven Wood
First he considered southern France, because it seemed warm and nice. However, it was difficult to forge good contacts there, so he ended up on a farm in Norway instead.
Tjalling Chaudron was born in the Netherlands, and he is used to going his own way. He moved to Norway alone, while his family moved to Sweden at the same time.
"When I was in Norway, I felt that I may as well finish high school there, so I got into a school in Hamar. It was a bit hard as far as the language went; I only had a few months between moving and the start of the school year. But I managed anyway."
Later Tjalling ended up in the construction industry, and he sometimes also worked in the outdoor industry. He lived in Charlottenberg for a while, and when it was time to continue his education he naturally chose Karlstad University.
"At first I wanted to study engineering physics, but it was a bit too theoretical for me, so I switched to innovation and design. I like to be more hands-on, and I've always wanted to create products, to test them, and to work with my hands. When I was younger I subscribed to architecture magazines and I was interested in furniture and other products."
Shaped his own education
"Innovation and design was really good. I had great classmates and we had good teachers. And the programme is just the right size. We weren't so few that you had to be awake every class (laughs), and not so many that you disappeared in the masses. You also really got to know the teachers."
Tjalling especially appreciated the flexibility of the programme, which he adapted according to his own interests.
"I feel that I could shape courses in the directions I'm interested in, even the courses that are pretty standard, like the CAD course. I could develop my courses according to my own interests – this is definitely possible if you are willing to work a bit harder. The teachers are there and help you to make progress. I thought that was really good."
The dream job
Tjalling wrote his degree project and went back to working for a carpentry firm in Töckfors while he took a few extra courses and finished a few outstanding ones. Then he heard about his dream job.
"It was a fellow student that tipped me off. Moelven was looking for a product developer. It was a long process with many interviews before I got the job – but now I am the only product developer at the main office in Karlstad and I work for all six our production units. There are many discussions on our new products. At the moment I'm working with drawings for a new product and have to work out how to get it through our production lines as effectively as possible. I look at equipment costs, volumes, raw materials, etc. I work closely with the marketing manager and the production managers. We also do some trend analysis – we have to keep track of the relevant industries."
His best advice for other students is to keep on trying
"I could choose my own path – I did an engineering programme with quite a bit of design, and I could really submerge myself in these subjects. But, to do that, you have to be prepared to spend a bit more time and energy on your studies. Remember that your assignments are usually better when you generate their contents yourself. It's also more fun that way."