Alumnus of the month: ""Be open for the possibilities outside of your studies"
His entrepreneurial disposition made him start two companies before graduating. Now his time is devoted to business development at Drivhuset and he is soon part of Xmentor Management. The Alumnus of the month is Per Kilman.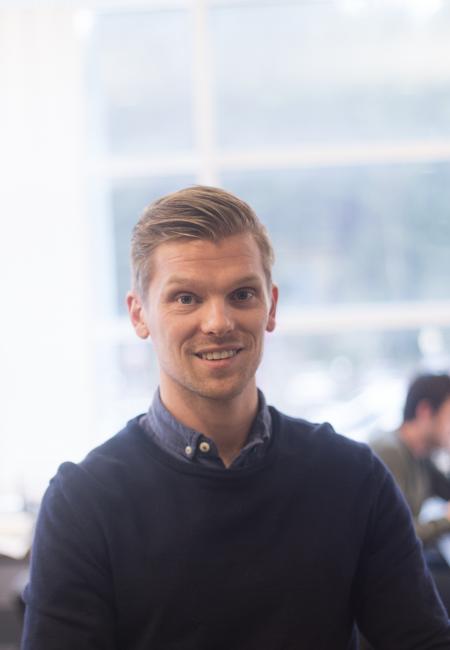 Name: Per Kilman
Age: 29
Family: Cohabitant and daughter
Education: Master of Science in Industrial Engineering and Management
Profession: Business developer, Drivhuset
Per's plans for the future crystallised at university. He studied the engineering programme in upper secondary education because of his interest in mathematics and problem solving. 
"I didn't really have plans then but did what I liked. I played hockey a lot. After leaving school, I worked with this and that in Oslo. I worked in a store house, a shop, and a restaurant to earn money for travel. When I got back to Karlstad I planned to pick up hockey again but a puck hit my head immediately and that was the end of it," he says laughing.
Studying for a broader base
He chose Karlstad University and industrial engineering and management because his interests had become clearer after school.  
"I knew that I wanted to do something in the line of combining engineering and business but above all, something providing a broad base. I had discovered that I was more interested in people than machines, even if engineering was still an interest. I like to work with processes and to understand different systems and their connections. Technology is a natural part of simplifying processes or information flows. 
Founded his first company in his fourth year
In Per's fourth academic year, the idea of what is now Apecs Studentkonsulter was born.  At his summer job, he realised that there were plenty of little tasks/improvements that needed doing but never were done because of lack of time. Such tasks probably existed in all types of organisations and would be perfect for students to do.
"Several degree programmes include placement and the assignments that Apecs students perform today are relevant to their training; insights into business processes etc. It was a good match, quite simply. So I enlisted a friend and together we started Apecs Studentkonsulter.  Around 20 students are involved in the company today.
Entrepreneurial support
In connection with his degree project, Per was one of the initiators of yet another company, based on an innovation in Arvika, which generated a patent. He left the company at the end of 2015 and recruited to Drivhuset:
"It suited me perfectly and involved exactly the things I like: developing business. Drivhuset is a fantastic resource and they supported me when I wanted to develop my ideas. Grants and Innovation Office at Karlstad University and the Innovation Office Fyrklövern also supported my two companies.
Unique combination of skills
His experiences have led to a new job, starting in May, at Xmentor Management. His advice to all students is to be alert to opportunities. 
"In the beginning, I was not really prepared to see opportunities outside of my studies. There are many student-driven initiatives to help students be active, profile their CVs and get experience. If I had paid attention, I would have done even more before graduating. Taking advantage of the student period, developing and creating a unique combination of knowledge is extremely valuable. Check out the opportunities or options early is the best advice I can give."