Benefits
A balanced life is an important factor in performing your duties well. We want to give all staff members the best possible opportunities to combine work, leisure and family through holiday agreements, flexible working hours and pay supplements to those on parental leave. Health maintenance benefits, massage and training are further benefits promoting wellbeing at and outside of work.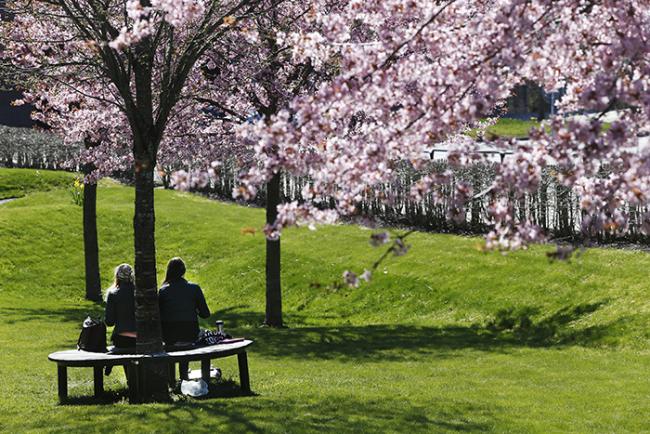 Working hours
Working hours are organised differently for different staff categories. Teaching staff have annual working hours, while most administrative and technical staff have flexible working hours.
Flexitime
Flexitime for administrative and technical staff is regulated via a local collective bargaining agreement.
Flexitime allows staff to determine their own working hours within the given framework and based on the needs of the organisation. Freedom to decide your own working hours may be restricted to some extent. The framework is from 06:00–20:00 and the core period, when all staff members are expected to be at work, is from 09:00–15:00. Cleaning and maintenance staff have a framework from 05:00–17:00 with core hours between 06:30 and 12:30.
Non-regulated working hours
Staff with non-regulated working hours determine their own working hours, based on the needs of the organisation, the nature of their duties and the need to be present at the workplace. This may also entail the freedom to choose where you perform your work duties.
Non-regulated working hours should not be confused with annual working hours, which is the type of working time applicable to teaching staff at the university, as regulated in the working hours agreement for teaching staff.
Leave
There are three categories of leave at Karlstad University: holiday, parental leave and other leaves of absence.
Holiday entitlement depends on your age:
28 days until the year you turn 29
31 days from the year you turn 30
Parental benefit supplement
While you are on parental leave, you are entitled to a parental benefit supplement equivalent to 10% of your daily pay for those days on which parental benefits over the lowest amount are paid.
Health maintenance benefits
Karlstad University wants to help staff to stay active, since activity has positive results both at work and in your private life. The university creates opportunities for staff members to promote their health, for example by encouraging them to take advantage of a generous number of health maintenance benefits.
Health maintenance hour
Staff with regulated working hours are entitled to one health maintenance hour per week, if their work allows.
Subsidised gym memberships
Staff training at the facility of their choice may be reimbursed by the University for 50% of the costs, up to a total of SEK 1 500 per calendar year.
Discounted training
Some training facilities offer discounted prices to university staff. Staff need to show proof of employment to receive the discount.
Lunchtime training at the university
Karlstad University's sports club, KAUIF, offers free lunchtime training at the university, including circuit training, core and power yoga.
Massage
KAUIF offers 30 mins classic office massage to staff for SEK 150. The massage is focused on the back and neck and is not meant to treat existing injuries. If you experience back or neck pain, please contact our occupational health service, Clarahälsan.
Healthcare
Staff may keep doctor's and dentist's appointments during paid working hours. There is also some reimbursement available for healthcare, physiotherapy, hospitalisation and prescribed medication.
All staff members can receive occupational health services for work-related ailments.
Annual bus tickets
University staff may buy an annual bus ticket via deductions from your net pay. This means that you pay for 10 months but can travel for 12 months using the city bus card or the county bus card.
Pension
After a rich working life at the university, we also want you to enjoy your retirement. Karlstad University staff are covered by the occupational pensions agreement PA 16. This agreement complements national pensions.
Salary exchange
We want to enable staff to make favourable pension savings, for example by exchanging accrued leave for pension. You may also make special pension payments via continuous deductions from your gross pay each month.
Insurance
Karlstad University staff are covered by different types of insurance, including:
Occupational injury insurance: includes injuries or illness resulting from an accident or in another way caused by work.
Insurance for business travel: covers business travel for a maximum of 365 consecutive days, including 14 days' holiday in direct connection with the business trip.
Service group life insurance: In case of death, this provides financial security to the spouse, registered partner, cohabitant and children of the deceased.