How to get to Karlstad University
Our main campus lies a few kilometres east of the city centre. The easiest way to get here is by bus or bike, but you can also take the train and, of course, go by car. We also have a campus in Arvika, where Ingesund School of Music is located.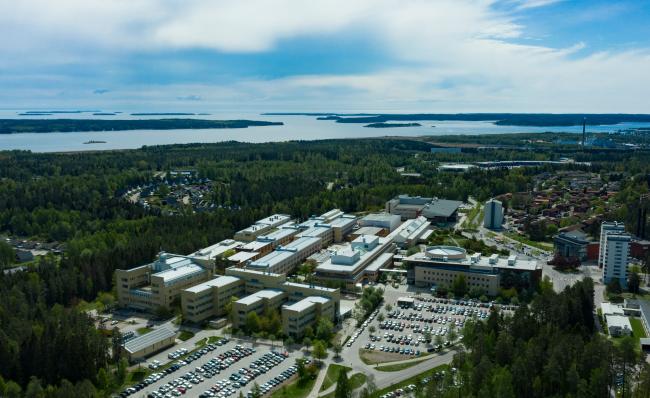 Getting to Campus Karlstad
By bus
Several buses stop at the University. Bus 1 is an express bus from the city centre and on weekdays, it departs every ten minutes for most of the day. Buses 2, 3 and 52 also stops at the University, but take longer to get there. There is a student discount for all Karlstadsbuss fares.
Several county buses (Värmlandstrafik) stop at the university and serve as shuttle buses for those who live outside Karlstad. You can also get to and from Karlstad with Swebus Express or GoByBus. Some of the lines stop at the university.
By bike
Taking a bike to get to campus is very easy. There are five main cycle paths in Karlstad that connect the city centre with the surrounding neighbourhoods. The red lane will take you to Kronoparken, where the campus is located. It's a 5,5 km ride from the city centre.
Car
If traveling by car, you can reach us easily from E18. Karlstad University is marked on the turnoff sign.
GPS: Lat: N 59º 24' 21.11" Long: E 13º 34' 55.95"
Train
Several trains (Värmlandstrafik) serves the stop Välsviken, just south of the University. From there, bus 53 will take you straight to campus. From Karlstad central station, it's easiest to get to campus on Bus 1 from the city centre.
Getting to Campus Arvika
Ingesund School of Music is located at Kyrkviken, just outside Arvika. It's easy to get to Arvika by train. Värmlandstrafik make several Karlstad–Arvika trips per day. If you are travelling from farther away, the Stockholm–Oslo line (SJ) stops in Arvika. From Arvika train station, buses depart regularly for Kyrkviken (Värmlandstrafik).