Experimental resources
The CMM group has built up a solid experimetal environment in house Vänern at Karlstad University, with advanced research instruments and testing equipment. This also a uniting factor in the group, to commonly use, develop and maintain these laboratories.
JEOL, JEM 2100, transmission electron microscope (TEM), 80-200kV, with < 2Å resolution, equipped with a LaB6 cathode, digital camera (SC1000 Orius), EDS and STEM facilities.
in-situ TEM probes (STM och AFM) for characterization of electrical and mechanical properties of nanoscale structures.
High resolution FEG scanning electron microscope, gprecisions 3-dimensional surface profilometer,
instruments for testing of dynamic mechanical properties (DMTA),
metallografic laboratory
servohydraulic tensile testing equipment,
sample testing equipment (två tribometers and one thermal fatigue),
scanning probe microscopy (STM/AFM) in ultra-high vacuum with variable sample temperature combined with photospectroscopy,
atomic force microscopy (AFM) in ambient conditions,
scanning Auger microscope,
equipment for the growth of semiconductor materials,
equipment for photo electron spectroscopy,
Additionally to these in-house-resources we also use external laboratories. In the research of Material physics, the use of synchrotron radiation for photo-electron and photo-absorption spectroscopy at the research laboratory MAX IV in Lund, is a vital part. The metallographic laboratory in Hagfors is also used.

MAX IV Laboratory, Lund University, Sweden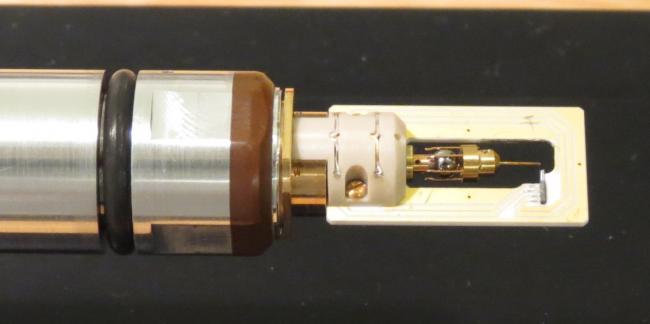 TEM-AFM holder for studies of mechanical properties of freee-standing nanoscale structures.