Alumni of the month: make sure to get involved even beyond the studies
Scarlett Roa Brynildsen studied Personnel and organization at Karlstad University. Today she runs her own company, Bright Red Future AB, where she is a consultant and lecturer in business development, internationalization and sustainable business.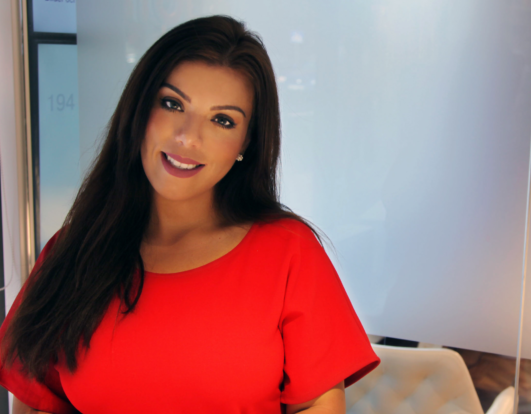 Why did you choose to study at Karlstad University?
"I was living in Säffle and student life in Karlstad seemed attractive. I had a baby when I was 20 and shortly after I started at the university. The student union ran a free of charge preschool with a "rain-or-drain" pedagogy, which made a real difference for me and other students with children. Besides, it was easy to get a flat in Karlstad."
Have you always been interested in legal issues?
"I have always wanted to work in law and I studied with the aim to do research in the field. In my student days I was very interested in politics and had a dream of being Minister of Justice some day. As it turned out, I didn't go into politics, but I was lucky to get a job at a local anti-discrimination agency after graduating. It was a great opportunity to combine my personal commitment to social sustainability with my theoretical knowledge of labour law and discrimination legislation."
What was your time at the university like?
"It was an amazing time. My husband was also a student and since we were young and had a child, the university became a second home. I will always cherish the memory of the familiar atmosphere and all the support from tutors and fellow-students."
What do you work with today?
"At present, I run my own consultancy business and give lectures on business development, internationalisation and sustainable enterprising. For eight years I worked in various advisory functions but then I chose to start my own business Bright Red Future AB a year ago."
How did your studies prepare you for your career?
"I often say that my education was the ticket to the life I lead today. I continued studying at Karlstad University, taking courses at different levels in everything from law to communication and pedagogy. And now I travel around Sweden educating entrepreneurs in sustainability, law and entrepreneurship, reaping the fruit of what I learned at the university every day."
Do you have any tips for current students?
"Take all the opportunities offered at the university to get work experience and contacts. Karlstad University has extremely good partnerships with business and industry, which gave me the chance to work and do my degree thesis in conjunction with Metso Paper Karlstad AB. My thesis was on the delegation of working environment duties in relation to current law (penal law), and I got references that opened doors to other jobs in the labour law area. Yet another tip is to get involved in something! Being a member of the student union election committee and council gave me important experience of recruitment and formal meeting procedures."