Information about Karlstad University Library and the coronavirus
On this page, we will gather up-to-date information on what applies to the library services during the outbreak of covid-19 (the coronavirus).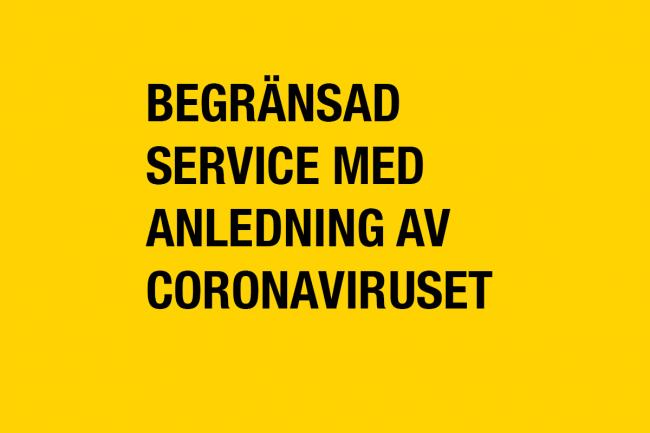 You can find the latest recommendations for students and staff at Kau here:

Only visit the library if you feel completely healthy.
Library opening hours
The library is open 12-14 Monday - Friday for students and staff with access cards (Kau-card).
At other times the library is closed, this also applies to the Reading Room.
The library staff will not be present in the library during the opening hours. If you need personal service, we are happy to help you by phone, email, chat or Zoom.
The library is not available as a study site, but only for the collection of literature and other loan matters.

 
Having trouble returning books or other issues related to your loans?
You can return books even when the library is closed. This is done in the box that stands at the university entrance (10-16 Monday-Friday) or outside the library entrance.
You can log in to My Loans to see your return date and renew existing loans. If the book cannot be renewed, and you do not have the opportunity to go to the library - contact us and we will try to find a solution.
Reservations/Requests
Since it can be difficult to come to the library during our limited opening hours at the moment we offer you, for a period of time, who live outside Karlstad urban area to have single reservations sent home.

You are responsible for ensuring that the book returns to the library in time. If you return the book by post, send it to our postal address:

Karlstad University Library
651 87 Karlstad

To borrow course reference books you still have to come to Kau to pick them up, and they must be returned no later than 00AM the following day.
Do you need to print, scan or copy?
You can use the library printers during our opening hours 12-2pm Monday-Friday.
Printers / Copiers and the Copyshop are running as usual on campus for those who need prints or copies. Note that you will need your kau-card and your pin code to enter the university buildings.
You can contact the print shop with questions. To reduce the spread of infection, the reception desk of the print shop is kept closed. The print shop is reachable by email and telephone, Monday-Friday, 08: 00-16: 00.
Phone: 054-700 20 70
E-mail: tryckeriet@kau.se
Tutoring via Zoom
You have the opportunity to book a librarian or writing tutor for tutoring via Zoom.

If you already have a booked tutorial or other meeting with a writing tutor or librarian, your tutorial will be done remotely or postponed. Contact the person concerned for more information.
Library teaching
If you have a pre-booked teaching or workshop at the library, these meetings may be cancelled or run remotely, you will then be given information about this.

You will find a lot of information about searching and reviewing information, writing references and writing academic texts on our web. You can also get tips on valuable subject resources in our Subject guides.

Longer waiting times
You may have to wait longer to get books that you ordered and need in your studies or work. Please contact us if you have any questions about this.

Many libraries in Sweden and the rest of the world have closed or have reduced opening hours during a period. This will also affect our service to you.
Contact:
Email: bibdisk@kau.se
Phone: 054-700 10 91, 054-700 10 92
Chat: accessed from the library's homepage
Information desk via Zoom, weekdays 10-12am: https://kau-se.zoom.us/my/kaubibl
Writing Tutors:
Library Ingesund:

Email: biblioteket@mhi.kau.se

Karin Engström
0570-38508

Anna-Karin Skansen
0570-38509