Information about Karlstad University Library and the coronavirus
On this page you will find information regarding the library's service during the outbreak of covid-19. (Last updated 2020-11-26).
The University Library will remain open, but we remind you of the importance of only visiting us if you feel completely healthy. Also, be sure to keep your distance. Do not move chairs or other furniture in the library.
The number of study places in the library is greatly reduced and primarily intended for individual studies. We only offer a few group workplaces. At all group workplaces (including group study rooms) there can be a maximum of 3 people.
Many of our resources and matters can be handled digitally. Do not hesitate to contact us if you have any questions!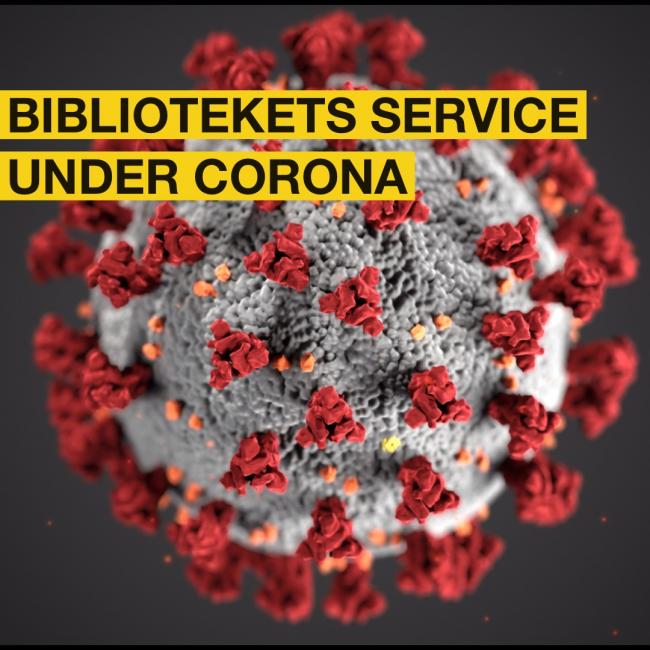 Library opening hours
The library is open Monday - Thursday at 10-18 and Friday - Sunday at 10-15.
PLEASE NOTE that you will need your Kau card to enter the University as from November 23.

During the opening hours, the information desk on the 2nd floor is staffed. We will help you with questions regarding loans etc, for other questions we will set up a meeting in Zoom.
The information desk on floor 3 is closed for the time being.

The entrance on the 3rd floor is closed for the time being.

We have made adjustments to, for example, furniture in the library so that you will feel safe when you visit us. Respect this and do not move chairs or other furniture.

The Reading room is open to you who have a Kau card at 8-24 weekdays, and 8-20 Saturday-Sunday.
Study seats and study rooms
The library can to a limited extent also be used as a study place, especially for individual studies. To reduce the risk of spreading the infection, the number of seats in the library is severely limited. We offer a few group workplaces, at these tables there can be a maximum of 2 or 3 people, depending on the size of the table.
It is possible to book group rooms, this is done via Mitt Kau.
A maximum of 3 people can stay in the group rooms at the same time.
Loans and returns
You can send a representative to pick up your ordered books. Books can be borrowed over the counter if the person shows your and their own ID.

The library's return box will be outdoors at the main entrance during the library's opening hours.

You can return books even when the library is closed. This is done in the return box that is at the library's entrance on the 2nd floor. Please note that you need your Kau card to enter the university's premises when the entrance is locked. If the entrance is locked and you do not have a Kau card, you can not return the book.

You can log in to My loans to see your return dates and borrow books and more. If the book cannot be re-borrowed, and you do not have the opportunity to go to the library - contact us and we will try to solve it.

Delay fees are temporarily removed during the period of stricter general advice. Old fees remain, but we do not charge new ones. Despite this, you should of course return your books if you can, given that others may need the books.
Reservations/Requests and course reference books
You will find reserved books in room 1E 225. Reserved books will be sent to your adress if you are registered as a off campus student.

You are responsible for ensuring that the book returns to the library in time. If you return the book by post, send it to our postal address:

Karlstad University Library
651 87 Karlstad

To borrow course reference books you still have to come to Kau to pick them up, and they must be returned no later than 00AM the same day.
Do you need to print, scan or copy?
You can use the library printers during our opening hours.
Printers / Copiers and the Copyshop are running as usual on campus for those who need prints or copies.
You can contact the print shop with questions.
Phone: 054-700 20 70
E-mail: tryckeriet@kau.se
Tutoring via Zoom
You have the opportunity to book a librarian or writing tutor for tutoring via Zoom.
 
Library teaching
If you have a pre-booked teaching or workshop at the library, these meetings may be cancelled or run remotely, you will then be given information about this.

You will find a lot of information about searching and reviewing information, writing references and writing academic texts on our web. You can also get tips on valuable subject resources in our Subject guides.

Longer waiting times
You may have to wait longer to get books that you ordered and need in your studies or work. Please contact us if you have any questions about this.

Many libraries in Sweden and the rest of the world have closed or have reduced opening hours during a period. This will also affect our service to you.
Contact:
Email: bibdisk@kau.se
Phone: 054-700 10 91, 054-700 10 92
Chat: accessed from the library's homepage
 
You can find the latest recommendations for students and staff at Kau here:
Writing Tutors:
Library Ingesund:

Email: biblioteket@mhi.kau.se

Karin Engström
0570-38508

Anna-Karin Skansen
0570-38509