Information regarding the coronavirus and COVID-19
From 8 November 2021, Karlstad University has resumed regular operations, in relation to the adaptations made due to the coronavirus pandemic.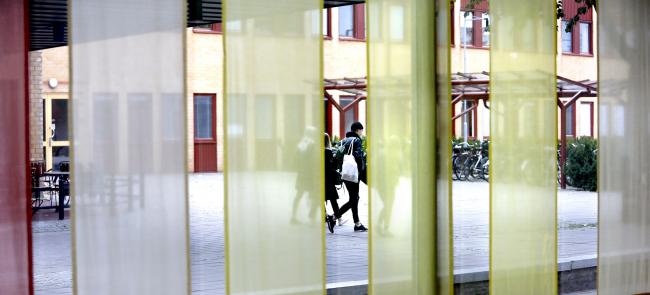 Teaching, examinations, and laboratory experiments are conducted on site at Karlstad University for all student groups who have not been admitted to a distance course or programme. Activities such as meetings, public defences of dissertations, conferences, seminars, fairs, visits and more can now be physical events.
The Public Health Agency's national general guidelines to reduce the spread of COVID-19
Those who are unvaccinated should continue to keep their distance and avoid crowds. They should also avoid close contact with people who are part of an at-risk group, as well as people aged 70 and over. The advice does not apply to people under the age of 18 or people who for medical reasons cannot vaccinate against covid-19.
It is important that you keep washing your hands carefully.
Stay at home if you experience symptoms of illness.
 
Vaccination
In Värmland, all students can get vaccinated. This also applies to those from outside of Värmland, in which case you can call Region Värmland on phone: 010-831 80 70 to book an appointment for vaccination. You can get your second dose of vaccine in Värmland, even if you have already had your first dose in your home region. This also applies to exchange students and guest lecturers who come to Värmland and are unvaccinated, or who have only received one vaccination dose. You are welcome to book an appointment for vaccination over the phone.
The Public Health Agency's recommendations for testing
Report if you have been exposed to the coronavirus
A serious incident report must be filed with the Swedish Work Environment Authority if you are exposed to the coronavirus in connection to your studies, even if you are not infected or become ill. Possible exposure scenarios include studying in close proximity to a fellow student confirmed or suspected to have been infected with COVID-19. Please note that you do not have to file a report with the Swedish Work Environment Authority if the exposure to infection is not directly related to your studies, as for example if you attend a student party or some other student gathering.
Call Chief Security Officer Jan Gambring on 070-201 05 69 and describe what has happened. The chief security officer will then file a report with the Swedish Work Environment Authority and the Swedish Social Insurance Agency.
Frequently asked questions
As a student, what do I do if I test positive for COVID-19?
Your test result will include information on how it should be interpreted. It also tells you who to contact for more information. You are required to comply with the instructions you receive, since COVID-19 is covered by the Communicable Disease Act.
What do I do if I have a cold when I have to take an examination?
If you are experiencing symptoms of illness, you must stay at home in accordance with the recommendations of the Public Health Agency. This applies even if you are vaccinated. If you have an on-campus examination and are experiencing cold symptoms, you must not come to the university. If an examiner decides that an on-campus examination cannot be replaced by some other form of examination, such as a take-home examination, you will instead have the opportunity to take an exam at a later date.
I am worried about the spread of infection, what do I do?
If you need someone to talk to, you can contact the Student Health Services. There are more information on the Public Health Agency's web page, which includes an FAQ. If you have questions regarding vaccination, you can go to 1177.se or pratavaccin.se.
How do I book group rooms and other facilities?
The University Library and all rooms at the University can be fully utilised again. Students can book group rooms via "Links" in My Kau. Students who belong to a student association can also put in a request to book a room via the student union.
My teacher is ill and I will not get my examination back as planned - what happens now?
If your teacher becomes ill, the course examiner can decide to prolong the grading time for the exam. If this happens, you will receive information from your teacher as soon as the decision is made.
I plan to go abroad for exchange studies - what do I need to consider?
Karlstad University complies with the guidelines from the Ministry for Foreign Affairs and the Public Health Agency, as well as the regulations of the university you will study at. As long as these three instances consider it safe to travel, Karlstad University will go through with the exchange. 
Stay updated on the situation in the country you will be travelling to,
If you have questions, contact the International Office at: exchange@kau.se
What do I have to do to retain CSN payments? What happens if I become ill?
We refer all questions regarding student loans to CSN.
What applies for placements (VFU)?
Placements are mandatory for the Teacher Education study programme, and must be completed in order to receive a Degree of Bachelor of Arts in Education or Pre-School Education. Consequently, we cannot cancel placements. It is also vital to give the majority of our teacher students the opportunity to complete their studies within normal programme length. This is why we also cannot postpone placements. We understand that there may be many questions related to placements during the coronavirus pandemic.
What happens if I am injured or become ill during my placement or VFU?
The insurance is valid in case of illness or injury during your placement. Because of a government decision due to the coronavirus pandemic, COVID-19 has been added to the list of diseases covered by the insurance.